Analysis: ABA League shifts towards a faster paced style of play
Wednesday, 03. October 2018 at 11:43
The matches of the first round of the 2018-2019 ABA League are complete and included many impressive individual and team performances.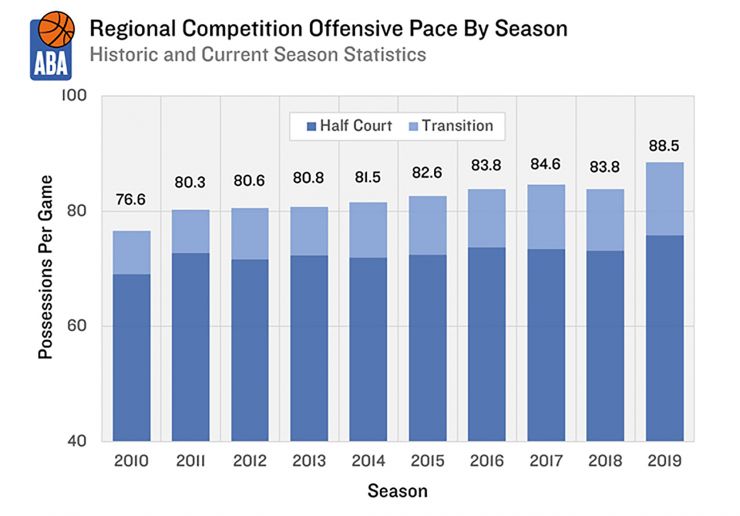 (Photo: Synergy Sports Technology)
This early in the season, many teams are still finding their identities as players build chemistry with one another, coaches perfect their strategies, and new signings arrive. Despite all the changes that occur during the early part of the season, there are a couple trends that can already be identified.
Over the last 10 seasons, the regional competition has shifted towards a faster paced style of play with Round 1 of the 2018-2019 seasons being one of the fastest on record. Pace is commonly measured in possessions per-game, a statistic that shows how often a team did something significant offensively like take a shot, draw a foul, or the ball over providing an overall measure of how aggressive they were. As the graph shows, both half court pace and transition possessions are on the rise in recent years. From a tactical perspective, teams are not only pushing the ball more aggressively in transition than ever before, but coaches are also designing their half court offenses to allow players to find shots more quickly than in the past.
It is still too early to assume that teams will continue to play at the remarkable pace they did in Round 1 all year, but there is a good chance this season will be the fastest of the last decade, and that is good thing for the league and for fans who will enjoy a more free-flowing, athletic style of basketball that should provide lots of exciting highlights.
Quick Hitters
Budućnost VOLI scored 24 points in transition in their win over Krka and did so over only 14 possessions. After their defense guided them to last season's ABA League trophy, they turned turnovers into points as impressively in Round 1 as they did in any game during their championship run.
Joe Ragland created, assisted, or scored 41 of Crvena zvezda mts' 78 points in just under 30 minutes of action in a win over Cibona.
Mirza Begić (14) of Petrol Olimpija, Round 1 MVP Dragan Apić (12), and Tomislav Zubčić (10) of Igokea all scored more than 10 points in post up situations alone. The regional competition has a strong history of back to the basket scorers, but Round 1 featured some particularly impressive individual efforts. For comparison, Luka Žorić led the ABA League averaging 5.3 points on post ups per game during the 2017-2018 season.
Insights and Statistics Provided by Synergy Sports Technology