EC: Defeats for Cedevita, Mornar and Partizan
Wednesday, 03. October 2018 at 10:26
All three ABA League teams suffered defeats in their Wednesday's EuroCup encounters. Cedevita lost to Limoges on the road, Mornar have suffered a home defeat by strong Russian side Unics Kazan and Partizan NIS were defeated on the road by Trento.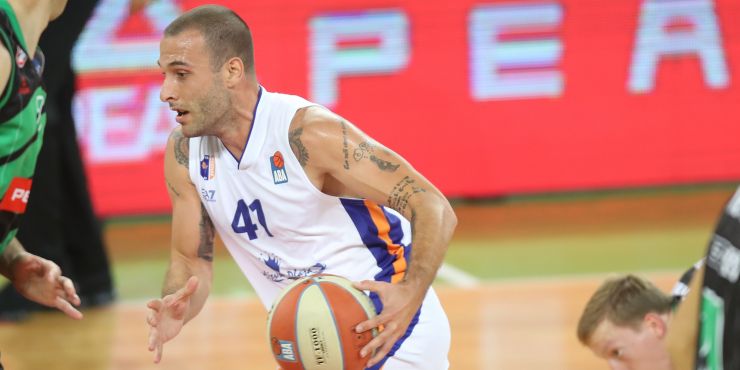 Nemanja Vranjes (Photo: Petrol Olimpija/Ales Fevzer)
Cedevita have suffered a road defeat in France by CSP Limoges. Even though Sito Alonso's men limited the opponents to only 3 points in the opening quarter, the home side managed to turn the game around in the remainder of the game, to celebrate a win in the end with the final score of 82:68.
Mornar have played their maiden EuroCup game, at home in Topolica Sports Hall in Bar, as they have faced Unics of Kazan. The first ever game in this European competition did not go down just as they had planned, as they have suffered a 23-point high defeat (97:74). For Mornar, Bronson Koenig led the way in scoring with 19 points. Strahinja Mićović and Nemanja Vranješ followed with 13.
Partizan NIS were not up to the challenge in Italy, where they were defeated in Trento by Dolomiti Energia. The hosts did not start the game in the best possible way, as they were down by 7 points after the first quarter, but then took the matters into their hands, to make a major comeback and scored a win with the final score of 82:73. Vanja Marinković was the top scorer of Partizan NIS with 19 points. Marcus Paige added 16.
A day before, Crvena zvezda mts were stronger than German side Ratiopharm Ulm at home in Aleksandar Nikolić Hall in Belgrade.
EuroCup Regular Season Group B, Round 1, Wednesday, 3.10.2018:
CSP LIMOGES – Cedevita 82:68
Group C, Round 1, Wednesday, 3.10.2018:
TRENTO – Partizan NIS 82:73 (17:24, 26:19, 19:15, -:-)
Radičević 15, Marble and Forray 14 | Marinković 19, Paige 16.
Group D, Round 1, Wednesday, 4.10.2018:
Mornar – UNICS 74:97 (18:28, 20:23, 21:26, 15:20)
Koenig 19, Mićović & Vranješ 13 | Ndour 29, Morgan 14.
Group A, Round 1, Tuesday, 2.10.2018:
CRVENA ZVEZDA MTS – Ulm 88:73 (28:21, 18:22, 16:16, 26:14)
Baron 19, Ragland 17 | Fotu 16, Reinhardt 11.