Krka facing another last season's finalists
Friday, 12. October 2018 at 09:47
For the second time in three opening rounds, the league newcomers Krka will be the guests of the finalists of the last season of the ABA League. After they faced the champs Budućnost VOLI in the opening round in Morača, they will now face still unbeaten Crvena zvezda mts in Aleksandar Nikolić Hall.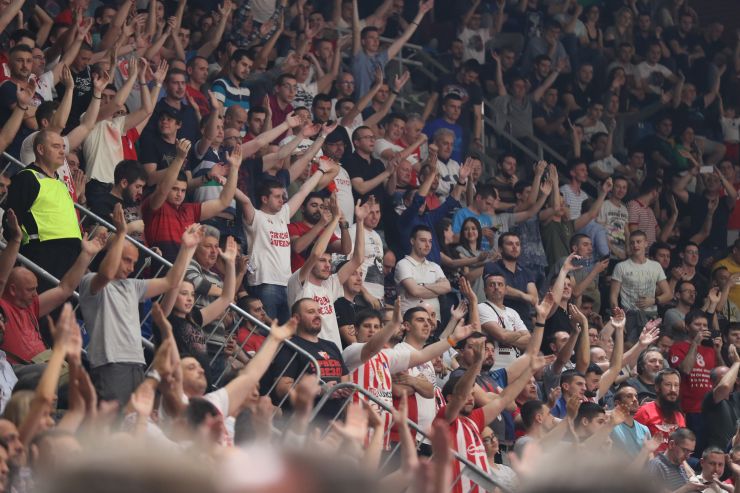 Crvena zvezda mts fans Delije (Photo: Crvena zvezda mts)
ABA League Round 3, Saturday, 13.10.2018:
Where? Aleksandar Nikolić Hall, Belgrade
When? 17:00
Story of the game: Another interesting game is coming up in Belgrade, where the ABA League runners-up Crvena zvezda mts will be hosting the ABA League 2 champions and ABA League newcomers Krka in Aleksandar Nikolić Hall on Saturday evening.
Things are looking quite clear ahead of he game, as the majority of the fans are expecting a game of cat and mouse, as still unbeaten Crvena zvezda mts are not expected to have many problems with Krka, that suffered a blowout defeat in the first round in Morača by Budućnost VOLI, which Crvena zvezda mts have beate easily in the previous round. However, what makes sports so interesting is the fact that you can never ever predict the final outcome with certainty.
Crvena zvezda mts hold the perfect score after two rounds, while Krka are coming to Belgrade with a 1:1 score.
Taking a look at the history there is no dilemma – Crvena zvezda mts have been much more successful than Krka so far in their regional league encounters – both when playing at home and on the road.
Match-up in focus: Two experienced centers will be in the limelight in Belgrade on Saturday evening, as German international Maik Zirbes will be challenging Krka veteran center Jure Lalić in the paint. Both of them are playing fantastically this season and we can only wait and see which one would prevail this time around!
Head to head in regional league: In total 15:5; In Belgrade 8:2.