First home game for Mornar – first win
Sunday, 14. October 2018 at 17:00
In their first home game of the ABA League season, Mornar have achieved their first win, as they have beaten Partizan NIS on Sunday afternoon.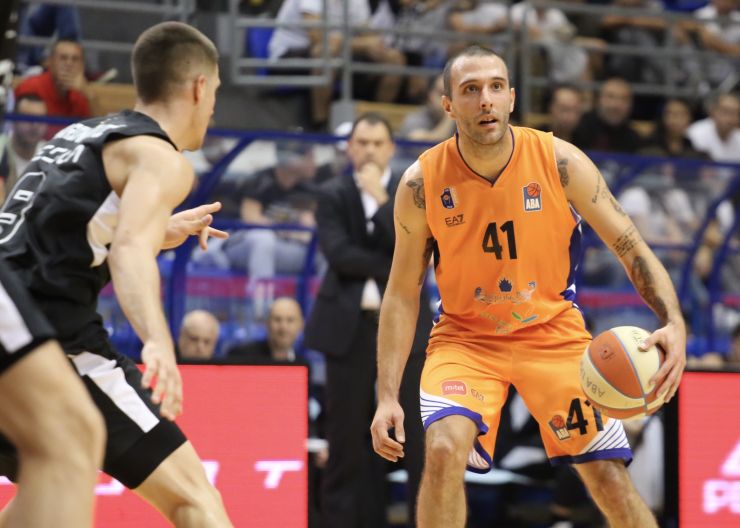 Nemanja Vranjes (Photo: Mornar/Media Pro)
ABA League Round 3, Sunday, 14.10.2018:
MORNAR - Partizan NIS 97:94 (25:14, 25:22, 22:23, 25:35)
Game recap: First home game, first win – this is the recap of the happening in Topolica Sports Hall from Mornar's point of view. Pavićević's men have bounced back after defeats against Petrol Olimpija and Krka at the start of the season with the huge win over Partizan NIS. The black and white, on the other end, have suffered their first defeat of the ABA League season. At the beginning of the game, just like before every other Sunday's ABA League game, there was a minute of silence held in memory of FIBA Secretary General Patrick Baumann, who has tragically passed away at the age of 51.
Key moments: Mornar have quickly earned themselves a double-digit lead, wining the opening quarter by 11 points. Partizan NIS have fought back in the second half and managed to create a thriller in the final quarter. However, Nemanja Vranješ's 2 three-pointers within 2 and a half minutes remaining on the clock, which took Mornar in front by 7 (87:89). Partizan NIS continued to fight for the win, but in the final moments, Vranješ was accurate from the free throw line and Mornar took the pair of points.
Man of the match: Who else but Nemanja Vranješ! Mornar sniper did not only score whatever was needed when it was needed the most, but he also collected 26 points, 5 rebounds, 3 assists, 1 steal and a valuation of 33. He is our man of the match.
Can't trick the stats: Mornar were simply too good from beyond the arc during this game in order not to win. They hit 12 three-pointers from 23 attempts (52.2%) and that was their key to victory.