Petrol Olimpija keep Stožice undefeated
Sunday, 14. October 2018 at 21:00
In the last game of the ABA League Round 3, Petrol Olimpija have beaten Zadar at home in Ljubljana and keep their home Stožice Arena undefeated this season.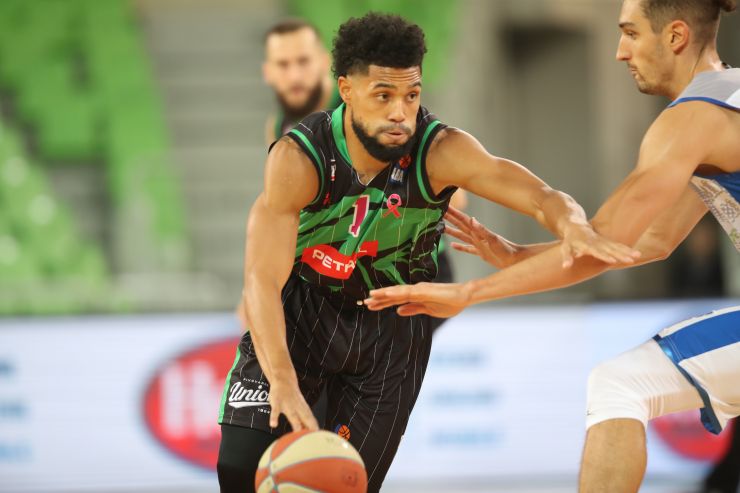 Michael Scott Reynolds (Photo: Petrol Olimpija/Ales Fevzer)
ABA League Round 3, Sunday, 14.10.2018:
PETROL OLIMPIJA - Zadar 91:81 (29:16, 19:21, 10:17, 33:27)
Game recap: Petrol Olimpija are staying in the race for the very top of the ABA League standings after three rounds, as they have grabbed their second win of the season, by beating Zadar at home in Stožice Arena in Ljubljana. After two games played at home, the Dragons are keeping their home court of Stožice undefeated! At the beginning of the game, just like before every other Sunday's ABA League game, there was a minute of silence held in memory of FIBA Secretary General Patrick Baumann, who has tragically passed away at the age of 51.
Key moments: The winners were given in the 36th minute of the game, when the Dragons went on a 7:3 run and created themselves an 80:68 lead before the final four minutes. Zadar just did not manage to return into the battle for two points anymore.
Man of the match: Miha Lapornik of Petrol Olimpija scored 19 points, while adding 6 assists, 4 rebounds and a valuation of 26 to his stats. He is our man of the match!
Can't trick the stats: Petrol Olimpija have simply outrebounded the guests this time. They had 37 rebounds and Zadar only 30. That's what decided the winners.