Analysis: Several players scoring with excellent efficiency
Tuesday, 16. October 2018 at 13:02
Through three rounds of the 2018-2019 ABA League, no shortage of players have thrived in their roles offensively to help their teams to strong starts.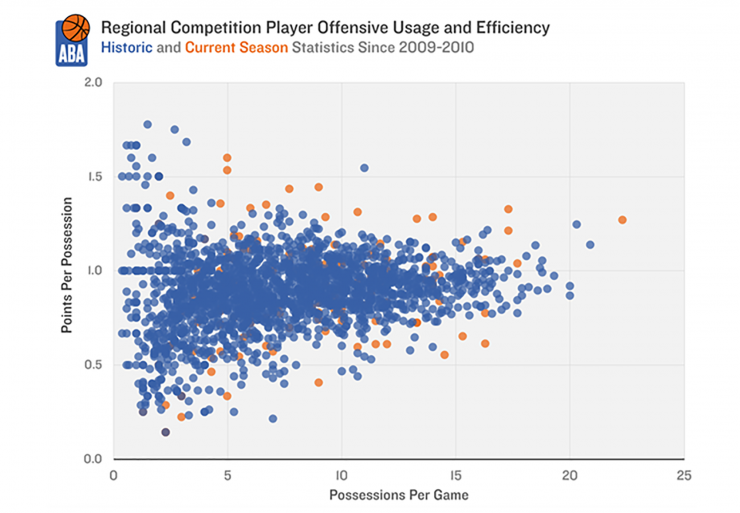 (Photo: Synergy Sports Technology)
The graph above includes one marker for every player in the regional competition for each season this decade positioned by the size of their offensive role in possessions per game and their scoring efficiency in points per possession. Players competing in the 2018-2019 ABA League season are highlighted with an orange marker to show that, early on, almost a dozen players are scoring the ball with excellent efficiency well above the previous bests for their respective usage rates.
To better gauge individual scoring performance, it is worth knowing the ABA League's baselines for usage and efficiency. On average, players have scored 0.94 points per possession this season and the average player is using 8.1 possessions per game, the equivalent of 9.2% of a team's possession. 68% of all players this season have used between 5 and 10 possessions per game while only 12% of players have used over 14 possessions per game as clubs at this level of European basketball tend to play unselfishly with very little ego.
Digging Deeper
Some teams spread the ball around more than others for a variety of reasons and that has a clear impact on a player's usage regardless of their talent level. For example, Crvena zvezda mts's highest usage player, Joe Ragland, has averaged a well above average 1.143 points per possession while using only 14.4% of the team's possessions this season--the lowest mark for a top-option in the ABA League. Despite that, the club leads the ABA League in offensive efficiency, thanks in part to Ragland's ability and willingness to get his teammates involved and the depth of the talent around him. In contrast, Igokea has leaned heavily on Tomislav Zubčić, who is represented by the right-most marker in the graph above. Using 26% of his team's possessions and averaging 1.269 points per possession, Zubčić is not only scoring at an inspiring pace in the largest offensive role any player has filled this decade, but doing so with elite efficiency.
Zubčić may lead the ABA League in usage by a comfortable margin early on, but he'll have a wide range of challengers for the title of the league's most efficient scorer. Many different types of players can score as shot selection, turnover rate, and the ability to draw fouls all play a part in just how effective a player can be at the role their coaches ask them to fill. Bruising big men who impose their will inside like Michael Ojo of Crvena zvezda mts who leads all players averaging 1.600 points per possession over 5 possessions per game often fare well in terms of efficiency while skilled, crafty forwards like FMP's Dragan Apić who has scored 1.327 points per possession over 17.3 possessions per game can also overcome the demands of their roles on sheer scoring talent.
Guards like Mega Bemax's Ognjen Čarapić, Petrol Olimpija's Jan Špan, and Budućnost VOLI's Aaron Vincent Craft all strike a different balance between scoring and passing but have all posted impressive efficiency numbers by limiting their turnovers when picking and choosing spots to score early on while elite shooters like Partizan NIS's Vanja Marinković can rise to the top of the leaderboards with their prolific three-point marksmanship.
We will take several looks at the most efficient offensive players in the ABA League throughout the season focusing more closely on this year's standouts and their talents.
Insights and Statistics Provided by Synergy Sports Technology