Big win for Krka – Partizan defeated in Novo mesto
Saturday, 20. October 2018 at 17:00
In their second home game of the ABA League season, Krka have beaten Partizan NIS and keep their home Leon Štukelj Hall unbeaten.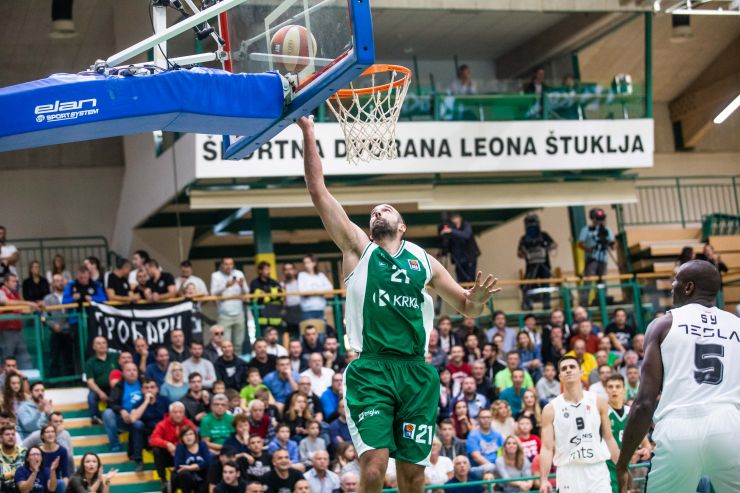 Jure Lalic (Photo: Krka/Danilo Kesic)
ABA League Round 4, Saturday, 20.10.2018:
KRKA - Partizan NIS 80:76 (18:18, 22:16, 10:17, 30:25)
Game recap: In the first game of Saturday's ABA League schedule, the ABA League newcomers Krka have beaten Partizan NIS at home in Leon Štukelj Hallin Novo mesto and are on a 2/2 record after four rounds played, just like the black and white. This season, the squad led by head coach Simon Petrov remain unbeaten at home court.
Key moments: With just a bit over half a minute remaining on the game clock, it was still anybody's game – Krka led 73:69. However, they had the ball and when Paolo Marinelli fired from downtown, he sent his team to a 7-point lead (76:69), which killed the hopes of Partizan NIS of a comeback and made the home fans ecstatic. This was a point of no return!
Man of the match: Luka Lapornik was shining throughout the game for Krka! He ended the game with 19 points, 8 rebounds, 1 assist and 1 steal, which was enough for the game high valuation of 27. He is our man of the match!
Can't trick the stats: Krka have outrebounded Partizan NIS by 8 rebounds (33:25) and that's what turned the game their way.