EL: Road defeat for Budućnost VOLI against Darussafaka
Tuesday, 16. October 2018 at 20:35
Budućnost VOLI have suffered a road defeat to Darussafaka in the second round of the EuroLeague season and keep waiting for their maiden win in the prestigious European club competition this season.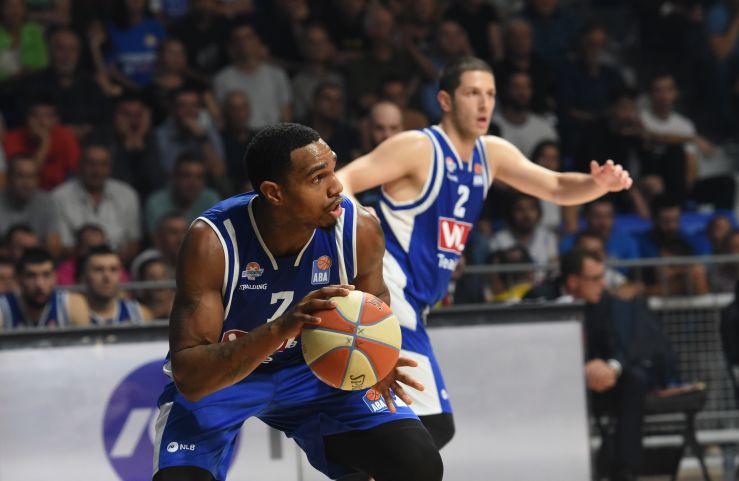 Coty Clarke (Photo: Buducnost VOLI)
On the road in Istanbul, Budućnost VOLI have suffered a defeat by Darussafaka. Despite their excellent start to the game – Budućnost led by 11 after 10 minutes of the game, the Podgorica squad failed to turn the game in their favour, as already by halftime they were down by 4 points. In the second half, the squad led by Aleksandar Džikić from the bench just did not manage to make a major comeback.
In the end, the score on the scoreboard was 71:63 in favour of the hosts. For Budućnost VOLI Nemanja Gordić and Earl Clark were the most efficient scorers, with 11 points apiece.
On Thursday, Budućnost VOLI will be playing another EuroLeague game – they will be hosting Maccabi of Tel Aviv in Morača in the Round 3 of the regular season.
EuroLeague Regular Season, Round 2, Tuesday, 16.10.2018:
DARUSSAFAKA - Budućnost VOLI 71:63 (14:25, 25:10, 14:14, 18:14)
Peiners 15, Kidd 12 | Gordić and Clark 11.
Round 3, Thuesday, 18.10.2018:
Budućnost VOLI - Maccabi Tel Aviv (20:00)
STANDINGS:
| Group Regular Season | W | L | PTS+ | PTS- | +/- |
| --- | --- | --- | --- | --- | --- |
| 1. Fenerbahce Istanbul | 1 | 0 | 97 | 72 | 25 |
| 2. Olympiacos Piraeus | 1 | 0 | 87 | 66 | 21 |
| 3. CSKA Moscow | 1 | 0 | 95 | 75 | 20 |
| 4. Anadolu Efes Istanbul | 1 | 0 | 90 | 71 | 19 |
| 5. Real Madrid | 1 | 0 | 109 | 93 | 16 |
| 6. AX Armani Exchange Olimpia Milan | 1 | 0 | 82 | 71 | 11 |
| 7. KIROLBET Baskonia Vitoria-Gasteiz | 1 | 0 | 87 | 79 | 8 |
| 8. Panathinaikos OPAP Athens | 1 | 0 | 89 | 84 | 5 |
| 9. Darussafaka Tekfen Istanbul | 1 | 1 | 164 | 172 | -8 |
| 10. Maccabi FOX Tel Aviv | 0 | 1 | 84 | 89 | -5 |
| 11. Žalgiris Kaunas | 0 | 1 | 79 | 87 | -8 |
| 12. FC Bayern Munich | 0 | 1 | 71 | 90 | -19 |
| 13. FC Barcelona Lassa | 0 | 1 | 75 | 95 | -20 |
| 14. Khimki Moscow Region | 0 | 1 | 66 | 87 | -21 |
| 15. Herbalife Gran Canaria | 0 | 1 | 72 | 97 | -25 |
| 16. Budućnost VOLI | 0 | 2 | 134 | 153 | -19 |