BCL: Unlucky defeat for Petrol Olimpija in Patras
Wednesday, 17. October 2018 at 07:34
Petrol Olimpija have put on a great performance on the road in Patras against Promitheas in the second round of the Basketball Champions League Regular Season, as they were in front for the majority of the game but lost in the end in a thrilling ending.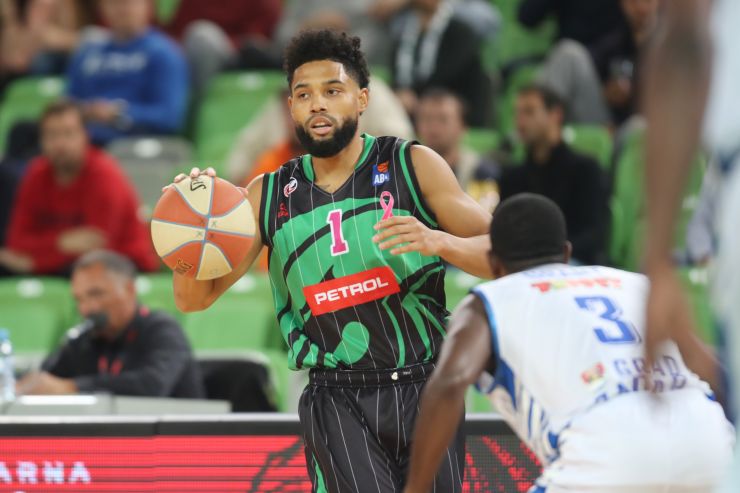 Michael Scott Reynolds (Photo: Petrol Olimpija/Ales Fevzer)
In a thrilling ending of the Round 2 game in Basketball Champions League in Patras, Petrol Olimpija suffered their second defeat of the European season, as they failed to achieve a win against Promitheas, even though they were in front for the majority of the clash.
Olimpija were up by 3 points after first quarter and by 5 after first half. With 10 minutes remaining on the game clock, they were still in the lead by a point, but in the end, Promitheas came up with a comeback and won the game by two points (79:77).
Scott Michael Reynolds and Miha Lapornik topped the list of scorers for the Dragons with 17 points scored apiece.
FIBA Champions League Regular Season, Round 2, Wednesday, 17.10.2018:
PROMITHEAS PATRAS - Petrol Olimpija 79:77 (17:20, 20:22, 23:19, 19:16)
Lypovyy 17, Meier 15 | Reynolds and Lapornik 17.
STANDINGS:
Group D
W/L
P

1

Segafredo Virtus Bologna
2/0
4

2

SIG Strasbourg
2/0
4

3

Promitheas Patras
2/0
4

4

Neptunas Klaipeda
1/1
3

5

Besiktas Sompo Japan
1/1
3

6

Petrol Olimpija
0/2
2

7

medi Bayreuth
0/2
2

8

Filou Oostende
0/2
2