Čakarević and Đerić reinforced Dynamic
Tuesday, 23. October 2018 at 18:57
Marko Čakarević and Mirko Đerić are the new members of Belgrade ABA League 2 members – Dynamic VIP PAY.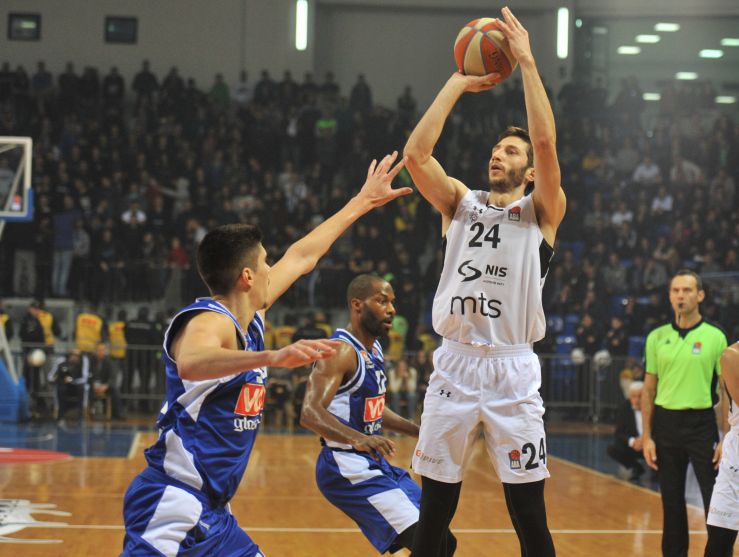 Marko Cakarevic (Photo: Buducnost VOLI)
After a season spent at Partizan NIS Marko Čakarević is coming back to Dorćol. Dynamic VIP PAY and Čakarević have agreed upon a new cooperation and we will be watching the 30-years old player again in Dynamic jersey. Čakarević appeared in 10 ABA League games for Partizan NIS last season, averaging 5.6 points, 5 rebounds, 1.5 assists and 1.3 steals per game.
Besides Čakarević, another player is coming to Dynamic VIP PAY – Mirko Đerić, who spent the last ABA League 2 season at Vršac. For Vršac he averaged 7.4 points, 1.9 rebounds and an assist per game.
--------------------
Čakarević i Đerić pojačali Dinamik
Marko Čakarević i Mirko Đerić su novi člani beogradskog drugoligaša ABA lige – Dinamika VIP PAY.
Nakon sezone u Partizanu NIS Marko Čakarević se vraća na Dorćol. Košarkaški klub Dinamik VIP PAY i Čakarević potpisali su novu saradnju pa ćemo tako ovog 30-godišnjaka od ove sezone ponovo gledati u dresu Dinamika. Čakarević je u prošloj sezoni ABA lige za Partizan NIS odigrao 10 utakmica i prosečno postizao 5,6 poena, 5 skokova, 1,5 asistencije i 1,3 ukradene lopte.
Uz Čakarevića, u Beograd stiže i Mirko Đerić, koji je prošlu sezonu proveo igrajući drugu ABA ligu u redovima Vršca. Za Vršac je u proseku postizao 7,4 poena, 1,9 skoka i asistenciju po utakmici.