Cibona win overtime thriller against Petrol Olimpija
Saturday, 27. October 2018 at 17:00
Cibona have beaten Petrol Olimpija in Ljubljana for the 6th consecutive time and they did it in the sweetest way – by beating the hosts after overtime thriller!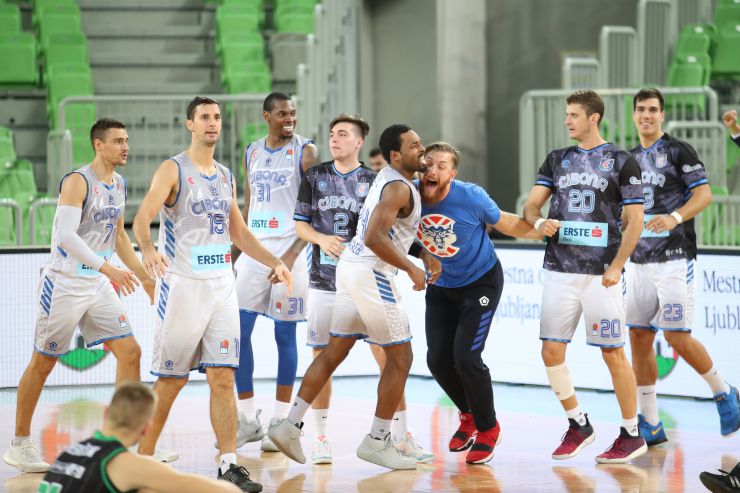 Cibona team (Photo: Petrol Olimpija/Ales Fevzer)
ABA League Round 5, Saturday, 27.10.2018:
Petrol Olimpija - CIBONA 78:80 (19:15, 15:10, 14:21, 20:22, 10:12)
Game recap: Tradition goes on! Just like in the previous five games, Cibona have beaten Petrol Olimpija on the road in Ljubljana. And… just like last season, they did it in the thrilling finish, as Marko Ljubičić gave them the game winner in the dying seconds of overtime. This win puts Cibona right next to Olimpija in the standings, with two wins grabbed in five games so far.
Key moments: Petrol Olimpija led by 3 points with 10 seconds remaining in the regular part of the game and they had the ball posession. However, they made an offensive fould and received a 3-pointer in the final seconds to take them to overtime. In the overtime, the teams have exchanged their leads few times and Cibona came out on top in the end, thanks to Marko Ljubičić, who scored a game-winning layup with 4 seconds left.
Man of the match: Even though he ended the game on the bench because of foul trouble, Brandis Raley-Ross is the man of the match for Cibona. He had 20 points, 5 rebounds, just as many assists, 2 steals and a valuation of 26.
Can't trick the stats: Turnovers have been Petrol Olimpija's problem all season long and it has been no different in this game. They had 14, while Cibona had 7. If they lost one ball less, the story could have been completely different.