Mega beat Mornar in Bar, stay perfect
Sunday, 28. October 2018 at 21:00
In the last game of the round, Mornar are currently hosting Mega Bemax at home in Topolica Sports Hall, Bar. Follow live play by play on our website.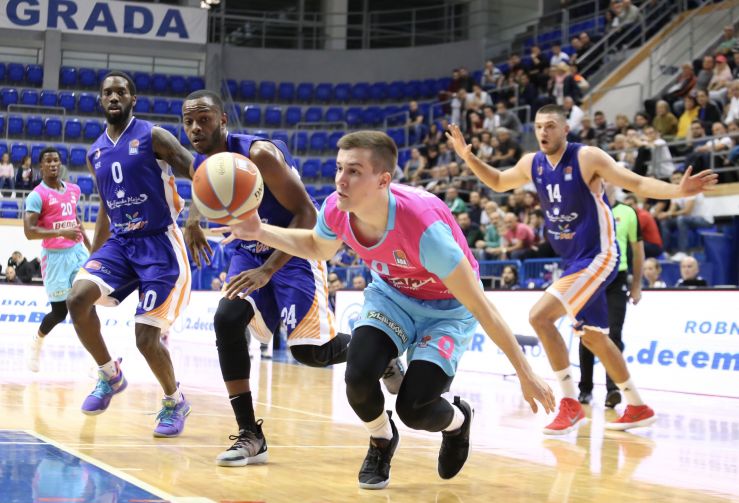 Ognjen Carapic (Photo: Mornar/Media Pro)
ABA League Round 5, Sunday, 28.10.2018:
Mornar - MEGA BEMAX80:84 (17:29, 23:19, 21:19, 19:17)
Game recap: Even after five rounds have passed, Mega Bemax have maintained their perfect record, as they have grabbed victories in all five games played so far. For Mornar, this is the third defeat of the season, alongside two victories, which puts them in the group of eight teams that are sharing the fourth place in the standings.
Key moments: Since the beginning of the game (they were up by 18 points in the first quarter), Mega Bemax were in front, but Mornar returned into the race for the victory later and… made the game interesting all until the final moments. When the teams entered the final minute it has been a 2-point game (80:78 in Mega's favour). Mornar had the possession, but they failed to convert it and with 30 seconds left on the game clock, Ognjen Čarapić increased the lead for Mega to 82:78. Mornar haven't managed to threaten Mega's advantage anymore.
Man of the match: There can be only one name mentioned as the man of this match! It is Mega Bemax's big man Goga Bitadze, who collected 26 points, 10 rebounds, 3 blocks and a valuation of 35!
Can't trick the stats: Mega Bemax have outscored Mornar thanks to their better field goal percentage. They hit 44% of their shots from the field and Mornar only 35.7%. This turned the game their way even though they were outrebounded and had more turnovers than the hosts.