Analysis: ABA League Player Offensive Efficiency
Tuesday, 30. October 2018 at 08:26
With five rounds of the ABA League complete, several players have separated themselves from their peers in terms of scoring efficiency.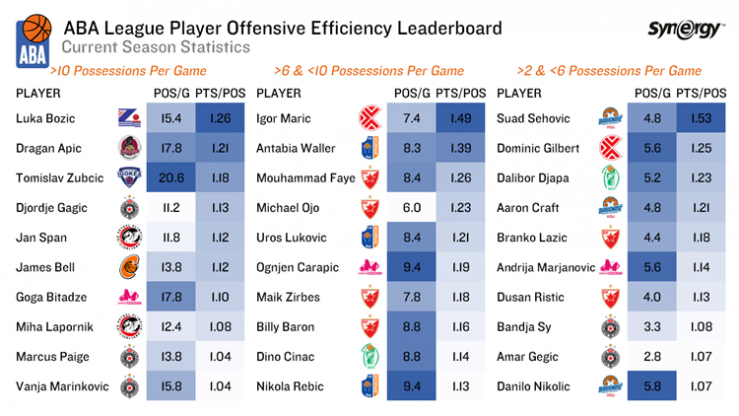 (Photo: Synergy Sports Technology)
The table above separates the ABA League's 10 most efficient scorers in points per possession into 3 categories based on the number of possessions they have used per game so far this season. The maximums and minimums of the three ranges were set to separate nearly the same number of players into each range.
Range 1: High Volume Scorers
The first range contains the greatest variety of players as some teams' leading scorers are asked to take far more shots than others. As we noted at the end of Round 2, Dragan Apić of FMP and Tomislav Zubčić of Igokea were both scoring with impressive efficiency in two of the biggest roles in league history. That has not changed to this point, but it has been Luka Božić who sits atop this list right now. A unique player, Božić leads the ABA League in transition and put back scoring. He thrives on hustle plays, but can also push the ball himself and scores in a wide variety of ways inside. His efficiency is remarkable for a player who does not attempt many 3-pointers.
Partizan places 3 players on this list—the most of any team—including both of their starting guards, Vanja Marinković and Marcus Paige. Surprisingly, only one player from one of the two undefeated ABA League teams is included, 19 year old center Goga Bitadze of Mega Bemax who continues to evolve as a go-to scorer.
Range 2: Mid-Level Scorers
The second range includes a lot of players on deep teams or those who play a very specialized role. The most interesting aspect of this group is that the ABA League's other undefeated team, Crvena zvezda mts, is home to four of the ten players listed. They have no shortage of scoring options and spread the ball around unselfishly, a big reason why they lead the competition in offensive points per possession so far this season. Mornar Bar is currently the league's third most efficient offensive team and places three players on this list.
Igor Marić of Cibona and Antabia Waller or Mornar Bar top this list primarily because both have shot over 50% from beyond the arc on a significant number of attempts. Few players in any competition have spaced the floor as well as that pair has so far this season.
Range 3: Small-Role Scorers
The third range contains players who either do not play very much, are not asked to shoot often, or are very careful with the shots they choose to take. Suad Šehović of Budućnost VOLI is currently the ABA League's most efficient scorer and is a good example of the latter—he has attempted almost exclusively catch and shoot 3-point shots so far this season. Similarly, Dalibor Đapa of Krka has been deadly in pick and pop situations as guards are not the only ones to play roles centered around jump shooting. Šehović's teammate Aaron Vincent Craft plays a far different role than that pair often handling the ball in transition or the pick and roll and doing almost all of his scoring off the dribble, but places high on this list as well as there are many routes to efficient offensive play.
Insights and Statistics Provided by Synergy Sports Technology