Budućnost VOLI beat Petrol Olimpija at home
Monday, 05. November 2018 at 21:00
Budućnost VOLI have grabbed their fourth win of the season, as they have outscored Petrol Olimpija at home court in Morača, Podgorica.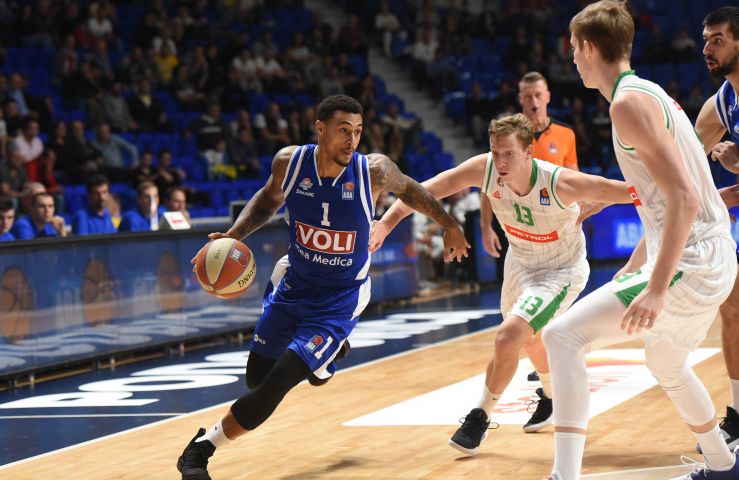 Edwin Jackson (Photo: Buducnost VOLI)
ABA League Round 6, Monday, 5.11.2018:
BUDUĆNOST VOLI - Petrol Olimpija 85:69 (22:10, 23:13, 19:30, 21:16)
Game recap: It has been an exciting contest in Podgorica, where Budućnost VOLI have been hosting Petrol Olimpija in the 6th round of ABA League. Already in the first half, the hosts have turned the flow of the game ther way, as they were up by 22 points (45:23) after 20 minutes of the game in Morača. In the second half Petrol Olimpija fought back, made it anybody's game, but they never managed to turn it around. For the blue and white this is the fourth win in six games this season in ABA League, while Petrol Olimpija have lost their fourth in six games.

Key moments: After Budućnost VOLI were up by no less than 22 points at halftime, Petrol Olimpija fought their way back into the game in the second half and cut the gap to only 3 points (70:67) with 5 minutes left in the game. However, Budućnost VOLI replied with great defense and three straight three-pointers over the next two minutes and made their lead double-digit again (79:67) with 3 minutes left on the game clock. The game was over.

Man of the match: Alen Omić shined against his former team with 11 points, 9 rebounds, 3 assists, a steal and a valuation of 19 in 26 minutes spent on court. He is our man of the match.

Can't trick the stats: Budućnost VOLI were simply better than Petrol Olimpija in every statistical category. They fully deserved their win.