Radivoj Korać | One of the best scorers this world has ever seen
Thursday, 05. November 2020 at 13:20
Today is the day when we remember one of the greatest sportsmen of our region – legendary Radivoj Korać, one of the symbols of the famous former Yugoslavian school of basketball.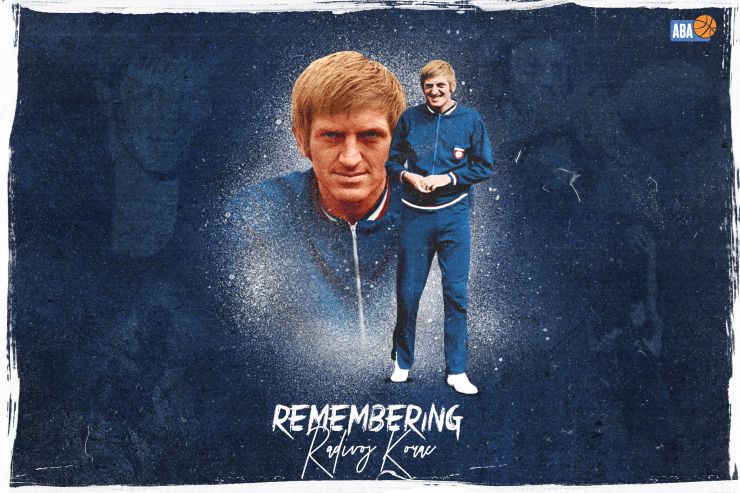 Radivoj Korac
Legendary Radivoj Korać, or Žućko as he was popularly nicknamed, would have turned 82 on this day. He was born on November 5, 1938 in Sombor, but his life ended too soon. Radivoj Korać lost his life at the age of 30 in a tragic car accident that occurred outside of Sarajevo.
But this basketball genius has never been and will never be forgotten.
He was one of the best basketball scorers this world has ever seen! Korać spent most of his pro career in OKK Beograd, with whom he won 4 national championships, while he was the top scorer of the Yugoslavian league for 7 years in a row, which no one has managed to repeat until this day. During those 7 seasons, he averaged 32.7 points per game!
While playing for OKK Beograd, Korać participated in various European competitions, while people are still talking about his performance in the FIBA European Champions Cup game against the Swedish team Alvik in which he scored 99 points!
Radivoj Korać also spent 1 season in Standard Liege, Belgium during which he helped the club win the national championship, while he was also the top scorer of his team. He played his last season in Padova, Italy and was the top scorer of the Italian championship.
Korać was the key member of the Yugoslavian national team generation that strived the basketball in our region towards world's top – with him aboard, Yugoslavia have won five silver medals, and one bronze medal, in a total of 157 international games during which he averaged 20.1 points per game. He was the EuroBasket's Top Scorer 3 times (1959, 1961, and, 1963), and was named the MVP of EuroBasket 1961. He also became the top scorer of the Olympic Basketball Tournament in 1960.
Everything about his greatness is said with the fact that soon after his death, FIBA Europe established the European third-tier Radivoj Korać Cup in his remembrance, in 1971. Korać was named one of FIBA's 50 Greatest Players in 1991. In 2002, the Basketball Federation of Serbia named its top national cup competition, the Radivoj Korać Cup, after him. He was enshrined into the FIBA Hall of Fame in 2007 and was named one of the 50 Greatest EuroLeague Contributors the following year.
Besides his fantastic basketball abilities, what made him a symbol of former Yugoslavian basketball culture was his lifestyle. An intellectual that he has been, away from the basketball court Žućko enjoyed theatre, music, and reading books. He was a senior undergraduate, from the Faculty of Electrical Engineering (ETF), at the University of Belgrade.
Even though he isn't with us anymore, we will always remember this day. Happy birthday Žućko!