Analysis: Joe Ragland is the most productive pick and roll weapon
Wednesday, 07. November 2018 at 11:37
After six rounds of the ABA League, only one team remains undefeated. One big factor in their success has been the way they have scored running the pick and roll.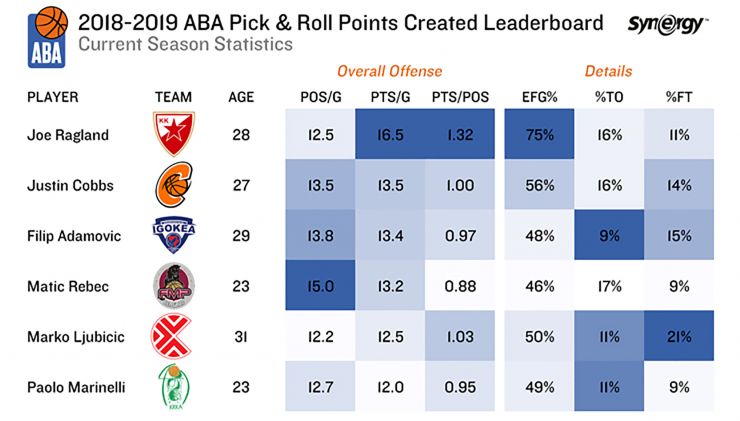 (Photo: Synergy Sports Technology)
The table above displays the ABA League's 6 most productive players in points scored or created by a pass out of the pick and roll per game. After Round 6, Crvena zvezda mts is the competition's only undefeated team, which is not surprising as they lead the league in offensive efficiency scoring 1.06 points per possession. A big part of Zvezda's success can be traced to their consistency scoring in the pick and roll.
Digging Deeper
Almost 40% of all half court possessions in the ABA League this season have been used by the ball handling in the pick and roll or by another play the ball handler passed to. Guards who can score themselves or pass the ball to create good opportunities for teammates to score are more valuable than ever, and Zvezda has the most productive and efficient pick and roll weapon in the ABA League: Joe Ragland.
What makes Ragland so effective has not been difficult to see. He is a good pull-up threat, but gets to the basket as well as almost any guard in Europe out of the pick and roll. In addition to that, he also has great vision as a passer doing an excellent job finding shooters along the three-point line while navigating the two-man game. Through Round 6, the strong lefty leads the ABA League scoring 1.29 points per possession in the pick and roll and creating 1.34 points per possession with his passes. Since the average ABA League possession is worth 0.93 points per possession, Ragland's efficiency is off the charts and his all-around play has been key to his team's excellent start.
There are many productive pick and roll players in the ABA League this season as the table above suggests, and each has their own unique style. Justin Cobbs of Cedevita, for example, has done an excellent job finding spot up shooters passing out of the two-man game while Cibona's Marko Ljubičić does a great job keeping his dribble and drawing contact. Filip Adamović of Igokea is particularly smart with his decision-making rarely dribbling into trouble resulting in a low turnover rate. Krka's Paolo Marinelli has been very consistent finding the screener for high percentage shots while Matic Rebec has had to carry a very heavy burden in all aspects for FMP. There is a great deal of pressure on ball handlers in the ABA League to drive their team's offensive efficiency and this year's points guards are finding a variety of ways to get the job done.
Insights and Statistics Provided by Synergy Sports Technology