Zvezda triumphed in Ljubljana and maintained perfect record
Saturday, 10. November 2018 at 17:00
After seven rounds, Crvena zvezda mts will still stand on the top of the ABA League standings, with the perfect record, after they have beaten Petrol Olimpija on the road in Ljubljana.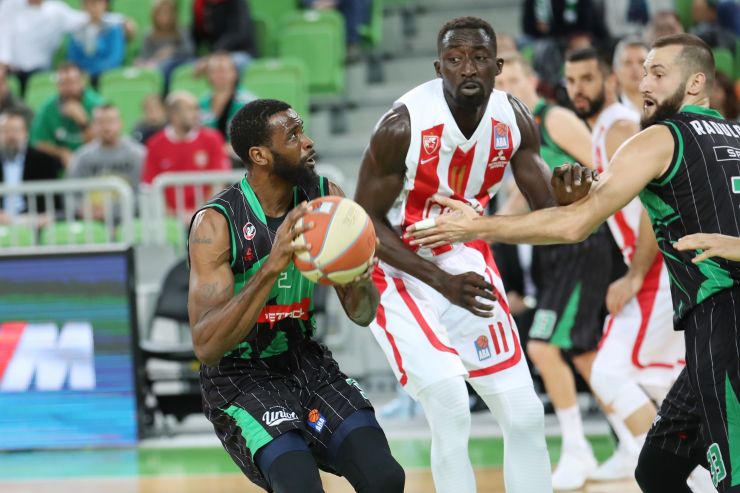 Marvin Jones (Photo: Petrol Olimpija/Ales Fevzer)
ABA League Round 7, Saturday, 10.11.2018:
Petrol Olimpija - CRVENA ZVEZDA MTS 60:83 (23:22, 13:21, 13:22, 11:18)
Game recap: Crvena zvezda mts remain the undisputed rulers of the ABA League this season, as they have beaten Petrol Olimpija on the road in Ljubljana, which keeps them alone at the top of the standings when the Round 7 will finish, with the perfeect record. The red and white were in front of the home side fort he majority of the game and are deservedly taking a pair of points home in Belgrade.
Key moments: After being down by 7 points at the halftime, Petrol Olimpija fought back at the beginning of the third quarter and cut the deficit to only 4 points (47:43) in 24th minute. However, Zvezda replied with a 9:1 run over the next 2 minutes and the score was 56:44 with 14 minutes remaining. The hosts did not manage to bounce back anymore ant the winners were decided.
Man of the match: Billy Baron led Zvezda towards the victory in Ljubljana with terrific display. He had 17 points, 6 assists, 2 steals and a valuation of 17 and is our man of the match.
Can't trick the stats: Crvena zveza mts were simply physically better than Petrol Olimpija. They won the rebounding battle 42:32 and this is what turned the game their way.