Cedevita join the Playoffs race by beating Igokea at home
Saturday, 10. November 2018 at 21:00
At home in Zagreb, Cedevita have prevailed over Igokea and have now re-joined the battle for a Playoffs spot. This is their third win of the season, Igokea remain with two!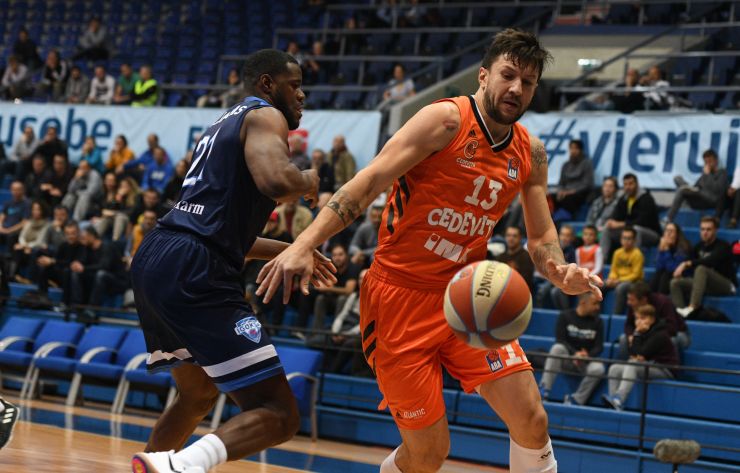 Andrija Stipanovic (Photo: Cedevita/Marin Susic)
ABA League Round 7, Saturday, 10.11.2018:
CEDEVITA - Igokea 100:80 (24:19, 19:17, 20:25, 37:19)
Game recap: Cedevita have achieved their second win in three games under the guidance of new head coach Slaven Rimac and the third one this season in seven games, by beating Igokea at home in Dražen Petrović Arena, Zagreb. By doing this, they have re-joined the battle for a Playoffs spot at the end of the season. Igokea, on the other hand remain with two wins on their record after seven games played so far.
Key moments: With nine minutes left in the game, the gap between the two teams was still only five points (68:63). However, that's when the home side went on a 6:0 run over the next 90 seconds and have increased their lead to 11 points (74:63). There were only seven minutes and a half left in the game and there was not return for Igokea into the battle for a pair of points.
Man of the match: Elgin Cook simply shined this time around for Cedevita. He had 26 points, 6 rebounds, 2 steals and a valuation of 28. He is our man of the match!
Can't trick the stats: Igokea did not do too poorly in many statistical categories, but their 18 turnovers were simply too many. This is what made the difference so huge.