Krka bounce back with big home win over Mega
Sunday, 18. November 2018 at 17:00
In the eighth round of the ABA League season, Krka have beaten Mega Bemax at home court in Leon Štukelj Sports Hall in Novo mesto and scored their third win of the season in the regional competition.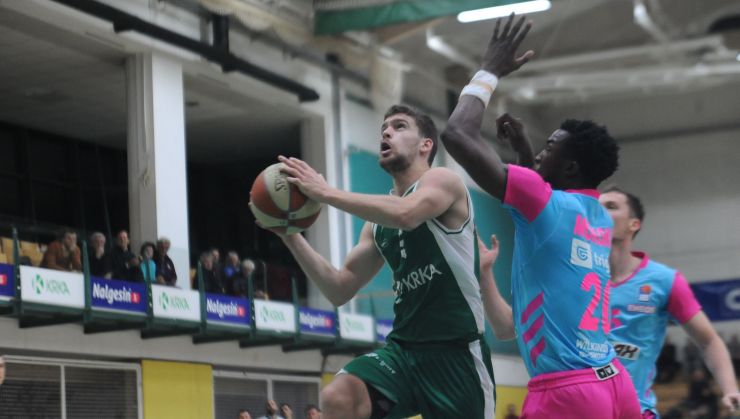 Paolo Marinelli (Photo: Krka/Drago Perko/kosarka.si)
ABA League Round 8, Sunday, 18.11.2018:
KRKA - Mega Bemax 82:69 (27:24, 20:11, 21:15, 14:19)
Game recap: In the opening game of the Sunday's ABA League schedule, Krka have beaten Mega Bemax at home in Novo mesto. The hosts, for which the experienced big man Jure Balažić has returned to court following an injury, have started the game strongly and have grabbed the key lead in the first half. This is the third win for Krka this season, which helped them escape from the bottom of the standings, while Mega Bemax continue the season with six on their record and will still be second placed in the standings after eight rounds.
Key moments: Krka have had an exceptional first half, when they scored no less than 47 points, while limiting Mega to only 35. This was the period, when they have created themselves the key lead. It was a 3-point game as the two sides entered the second quarter (27:24), but Krka opened it with 12:2 run in the opening four minutes to pull away to the score of 39:26. As it turned out later, Mega did not manage to get back into the game until the very end.
Man of the match: Paolo Marinelli was on fire for Krka. He did not score only 23 points for the hosts this time, but also scored 5 three-pointers (5/8) on the way to achieve that. He also added 1 rebound and assist apiece and had a valuation of 18. He is our man of the match!
Can't trick the stats: To put it simple – Krka have outrebounded Mega Bemax. They had 37 rebounds, in comparison with 29 of the guests. That's what turned the flow of the game their way.