Thriller in Ljubljana, Petrol Olimpija beat FMP
Saturday, 24. November 2018 at 19:00
In Ljubljana, the fans of Petrol Olimpija have seen a true thriller, which lasted for way over 2 hours. In the end, their favourites claimed the win after beating FMP.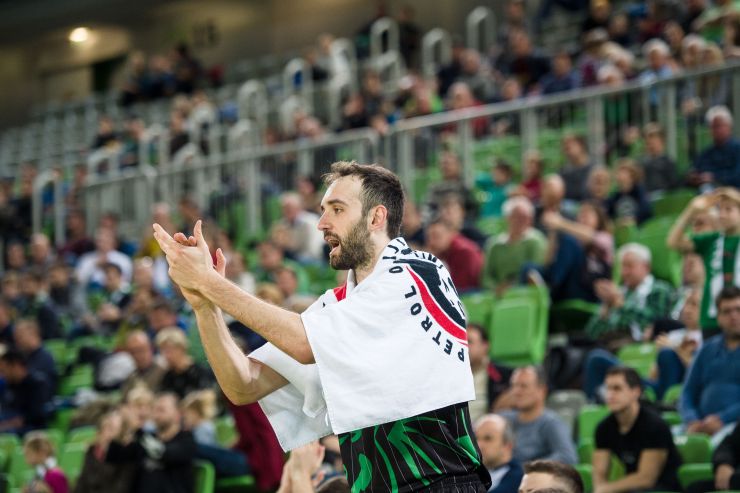 Mirza Begic (Photo: Petrol Olimpija/Ales Fevzer)
ABA League Round 9, Saturday, 24.11.2018:
PETROL OLIMPIJA - FMP 88:86 (16:21, 17:12, 22:22, 33:31)
Game recap: In Stožice Arena, Petrol Olimpija have been hosting FMP in the ninth round of the ABA League season and after a dramatic finish, the pair of points stayed at home in Ljubljana. The teams did not wish to give up their chance of winning all until the final seconds and the marathon-like game lasted for no less than 130 minutes. In the end, the green and white were the ones to get away with all the joy! Petrol Olimpija will be breathing a lot easier after this triumph, their third of the season, which pushes them towards the middle of the standings. FMP continue the season with three.
Key moments: As the teams entered the final minute, Petrol Olimpija were up by 4 points, but with excellent tactics, FMP managed to stay close all until the final moments. They even had a free throw with less than a second remaining at a 2-point deficit. Stefan Pot intentionally missed, but they failed to grab a rebound and to take the teams to overtime by scoring eventually.
Man of the match: Miha Lapornik was scoring when it mattered the most and he is the one that pushed his team in front in the final quarter with his accurate shots. In the end, he was the second best scorer of the Dragons with 17 points, while grabbing 4 rebounds, 2 assists and a steal to his stats. He is our man of the match.
Can't trick the stats: Petrol Olimpija were a better rebounding team (34:26 in rebounds). That's what turned the flow of the game their way.