Valuable road win for Igokea
Monday, 26. November 2018 at 21:00
On the road in Bar, Igokea have achieved an extremely valuable road win over Mornar, their fourth of the season.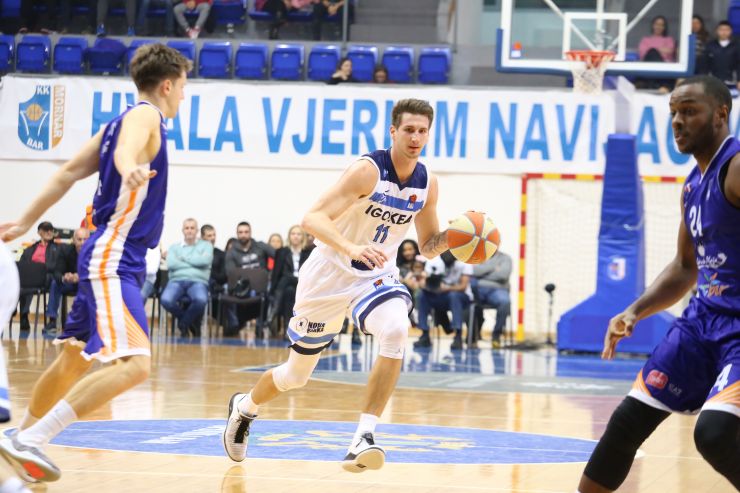 Tomislav Zubcic (Photo: Mornar/Media Pro)
ABA League Round 9, Monday, 26.11.2018:
Mornar - IGOKEA 97:103 (23:27, 19:27, 27:19, 28:30)
Game recap: In the last game of the ninth round of the ABA League season, Igokea have beaten Mornar on the road in Bar and have achieved their fourth win of the season, which takes them away from the danger zone near the bottom of the standings. On the other side, Mornar are staying at the bottom with only two victories grabbed in the opening nine rounds and will have a lot of work to do to get themselves in the position in the standings, where they desire to be.
Key moments: The score was still tied at 92:92, when the teams entered the final minute of the game. That's when the captain Vuk Radivojević stepped up for Igokea and scored an invaluable three-pointer which took his team ahead to 95:92 with 45 seconds remaining on the clock. On the other side, Bronson Koenig missed and Oliver Lafayette punished the hosts with two more free throws with less than 25 seconds remaining. Igokea were up by 5 points and this is where the game went their way.
Man of the match: Tomislav Zubčić! Igokea's power forward had 23 points, 7 rebounds, 3 assists, 1 steal and a valuation of 29. He is our man of the match.
Can't trick the stats: Igokea were dominant on the glass and that's what gave them the win. They had 37 rebounds and Mornar only had 23. Enough said!