Analysis: ABA League's top scoring screeners
Wednesday, 28. November 2018 at 11:04
The ABA League is home to some of the most productive roll men in professional basketball.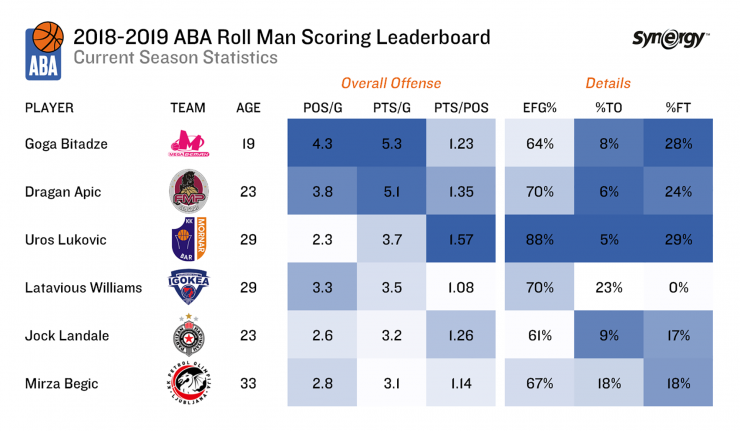 (Photo: Synergy Sports Technology)
The table above lists the ABA League's top scoring screeners in points per game. Possessions used by the screener in the pick and roll make up just 6% of all possessions used in the ABA League, but they are converted for 1.07 points per possession, well above the competition's 0.94 points per possession average. Although scoring opportunities for roll men are rare, they are very valuable, and several big men have converted them at a stellar rate this season. In fact, Goga Bitadze and Dragan Apić rank among the top players in screener points per game across major professional leagues worldwide.
Digging Deeper
The list above reveals a few things about the nature of pick and roll offense and the skill sets of the ABA League's top performing scorers.
A team's offensive playcalling and a player's role within their team's system largely determines how productive that can be rolling to the rim or popping to the perimeter. ABA League teams score between 3.9 and 8.2 points per game as all teams run pick and rolls regularly, but some manage to deliver the ball to their roll men in position to score more frequently than others. In addition to that, some players factor more prominently into their team's pick and roll attack than others. For example, Uroš Luković has used 48% of Mornar Bar's roll man possessions this season while Goga Bitadze has been responsible for 65% of Mega Bemax's serving as the screener for almost every pick and roll his team runs when he is on the floor.
Aside from their role, a player's skill set also has a lot to do with how often they can get open and then score as a screener. Forwards and centers who can be a threat to catch lob passes for alley oops around the rim are always good targets rolling to the rim in case defenders commit to stopping the ball handler. Latavious Williams of Igokea is a good example of a roll man whose athleticism is a major asset as some of his most impressive finishes in his short time in the ABA League have come on alley-oops rolling to the rim. Tall big men with great hands like Petrol Olimpija's Mirza Begić and Mornar Bar's Uroš Luković can contribute in a similar manner even if they might not play quite as high above the rim. Some of the league's most efficient scorers are pure rollers.
Despite that, the league's two best scoring screeners not only roll to the rim regularly, but often pop to the perimeter after setting a screen if that's where they can get most open. Both Goga Bitadze of Mega Bemax and Dragan Apić of FMP will occasionally slide out to the perimeter for open jump shots, but both do most of their damage around the rim. Jock Landale of Partizan NIS is the player from the list above most likely to pop to the perimeter for jumpers or dribble drives as his possessions as a screener are split evenly between rolls and pops. Partizan has certainly benefitted from his ability to draw opposing big men out to defend on the perimeter this season. However, it is Apić and Bitadze that sit atop the ABA League leaderboard, due to both their versatility to roll and pop, but also their knack for drawing free throws. The top scoring screeners across professional basketball can put pressure on defenses in a multitude of ways and the ABA League's standouts are no exception.
Insights and Statistics Provided by Synergy Sports Technology