#ABAFutureStars: Wins for Cedevita, Zvezda, Krka, Olimpija and Zadar
Thursday, 29. November 2018 at 17:55
In the first round of the U19 ABA League Championship, Cedevita, Crvena zvezda mts, Krka, Petrol Olimpija and Zadar were the ones to score victories.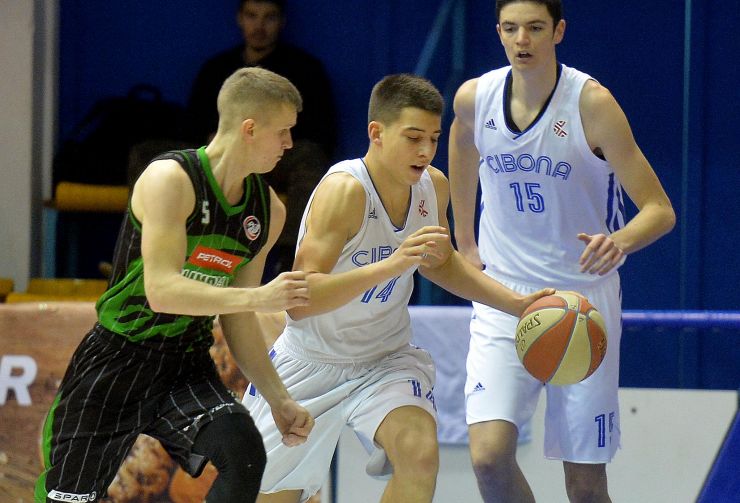 Vito Porobic (Photo: Zadar/Zvonko Kucelin)
The new season of the U19 ABA League Championship is underway.
In group A, Krka have beaten Mornar in Group A in Bar with the final score of 80:65 thanks to their excellent second half display, when they made a partial score of 47:35 in 20 minutes of the game. In the second game in Bar, Cedevita have outscored the reigning ABA League U19 Champions Mega Bemax in a thriller, celebrating a close 66:65 win in the end, especially thanks to their excellent third quarter (23:13). Cedevita were up by 9 points ahead of the last quarter. Mega Bemax fought back, but did not manage to come up with a major comeback in the end. Excellent performance by Luka Cerovina did not help Mega Bemax, as they young gun scored 19 points, had 10 rebounds, 4 assists, 2 steals and a valuation of 28!
In group B, Zadar have topped Partizan NIS in Zadar with the final score of 82:76 thanks especially to their excellent 3rd quarter display (27:11). The thing that has especially impressed the fans in Zadar was the exceptional performance of Jure Planinić, who achieved 24 points, 21 rebounds, 5 blocks, 4 assists, 3 steals and a valuation of 44! In the second game of the day in Group B, Crvena zvezda mts have outplayed Budućnost VOLI withthe final margin of no less than 35 points (87:52) and made a statement clear, that they are aiming at the very top of the group. In the last game of the round in Group B, Petrol Olimpija have knocked out Cibona after a huge comeback in the last quarter (23:9), when they have turned the game around and came up with a big 74:64 win over rivals of Zagreb. Blaž Janežič had a great display for Petrol Olimpija, as he had 22 points, 10 rebounds, 4 steals, 1 assist and a valuation of 29!
U19 ABA League Championship, Group A Round 1, Bar, 29.11.2018:
CEDEVITA - Mega Bemax 66:65 (13:14, 18:18, 23:13, 12:20)
Group B, Zadar, 29.11.2018:
Cibona - PETROL OLIMPIJA 64:74 (16:14, 23:20, 16:17, 9:23)
Other games of the day:
Group A, Round 1, Bar, 29.11.2018:
Mornar - KRKA 65:80 (18:14, 12:19, 18:19, 17:28)
Group B, Round 1, Zadar, 29.11.2018:
ZADAR - Partizan NIS 82:76 (20:24, 19:16, 27:11, 16:25)
CRVENA ZVEZDA MTS - Budućnost VOLI 87:52 (20:16, 19:8, 23:14, 25:14)