Petrol Olimpija seeking an upset against Cedevita with new coach
Thursday, 06. December 2018 at 15:00
In the opening game of the ABA League Round 10, Cedevita will be hosting Petrol Olimpija in their Dom sportova, Zagreb.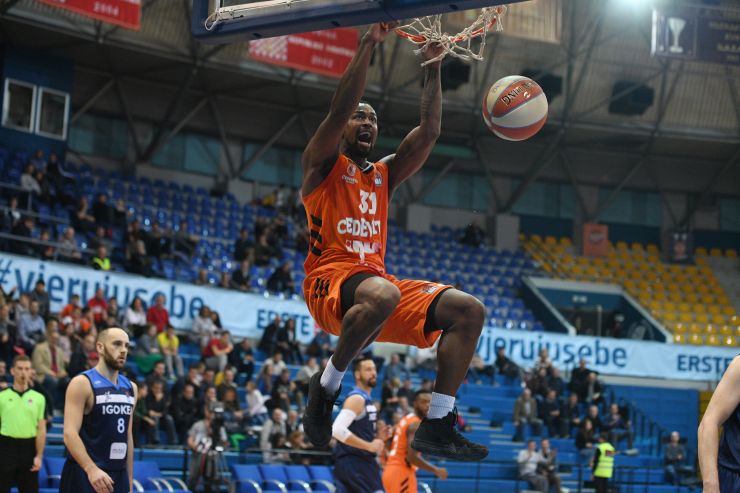 James Bell (Photo: Cedevita/Marin Susic)
ABA League Round 10, Friday, 7.12.2018:
Where? Dom sportova, Zagreb
When? 20:00
Story of the game: In the first game of the tenth round of the ABA League season, Cedevita will be hosting Petrol Olimpija in Zagreb's Dom sportova. It will be the clash of two teams with totally different stories this season. While Petrol Olimpija began the season very successfully, Cedevita struggled. But then, Cedevita managed to stand up following their head coach change, while Petrol Olimpija found themselves at the very bottom of the standings eventually.
Currently, Cedevita is at the fourth place in the standings, within the Playoffs zone, while Petrol Olimpija are sharing the 8th position with three more teams. While Cedevita have won four of their last five games and 3 in a row, Petrol Olimpija won only one of their last five.
However, the Dragons are hoping that with new head coach Saša Nikitović on board, they would manage to build on their last game in the ABA League, when they have beaten FMP. And perhaps perform an upset in Zagreb. Nothing is impossible!
Match-up in focus: After the departure of Scottie Reynolds from Ljubljana, more burden at the side of Petrol Olimpija will be on Jan Špan, as far as playmaking is concerned. He will quickly be able to test if he is good enough to carry the offense of Petrol Olimpija against the best, as Jacob Pullen will be face to face with him on Cedevita's side. This will be the match-up in focus this time!
Head to head in the regional league: In total 12:6; In Zagreb 8:1.