Budućnost VOLI beat Mega Bemax in dramatic finish
Monday, 10. December 2018 at 20:58
Budućnost VOLI have won the thrilling battle against Mega Bemax after making the crucial 11:0 run in the final 2-and-a-half minutes of the game.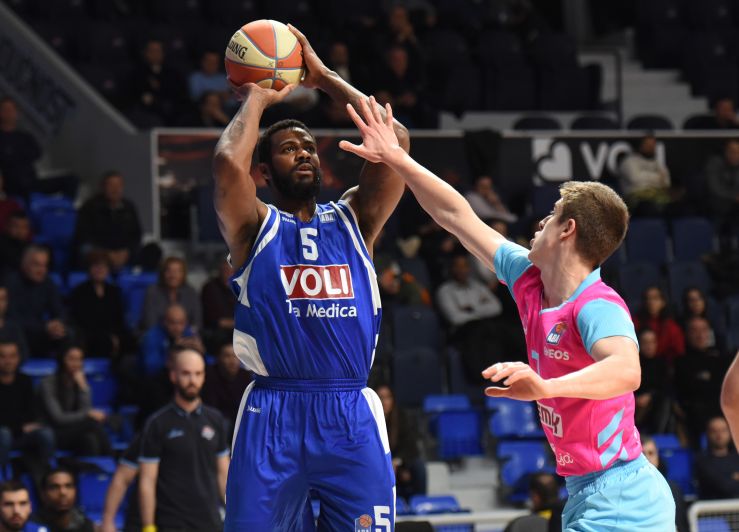 Earl Clark (Photo: Buducnost VOLI)
ABA League Round 10, Monday, 10.12.2018:
BUDUĆNOST VOLI - Mega Bemax 91:85 (21:31, 20:20, 30:18, 20:16)
Game recap: It was another spectacular game in ABA League! Budućnost VOLI have defeated Mega Bemax after making the crucial 11:0 run in the last 2-and-a-half minutes of the match. Therefore, the reigning ABA League champions are now all alone at the 2nd spot with 1 win more than Mega Bemax and with 2 wins less than Crvena zvezda mts.
Key moments: Mega Bemax were up by 85:80 with 2-and-a-half minutes left on the game clock. But, the visitors then stopped. They haven't scored a single basket in the remaining time, while Budućnost VOLI made 11 points in a row and completed the late comeback.
Man of the match: Nemanja Gordić was the game-winner for the Blue squad once again, as he drained the key 3-ponter for 91:85 on 25 seconds before the end. He finished the match with 16 points, 4 rebounds and 6 assists, while his overall index rating was 21.
Can't trick the stats: Despite having more rebounds and more assists, Mega Bemax still lost this match, as they simply lacked concentration in the last few minutes. That 11:0 run was crucial at the end.