Partizan NIS keep their Playoffs dream alive after beating FMP
Saturday, 15. December 2018 at 21:00
Partizan NIS have beaten FMP in the last game of the ABA League's Saturday schedule at home in Aleksandar Nikolić Sports Hall and keep chasing their desired spot in the Playoffs zone!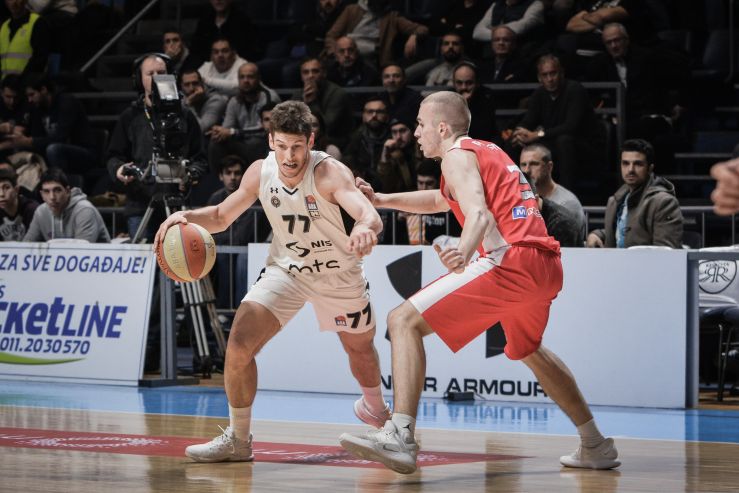 Aleksej Nikolic (Photo: Partizan NIS)
ABA League Round 11, Saturday, 15.12.2018:
PARTIZAN NIS - FMP 83:77 (17:22, 26:20, 25:20, 15:15)
Game recap: Partizan NIS are keeping their chances of reaching the Playoffs fully realistic after their 11th round win against FMP. By grabbing a new pair of points, the squad led by Andrea Trinchieri from the bench, are ending the first half of the regular season with 6 triumphs, one less than Cedevita and Mega Bemax, which are sharing the third spot in the standings. On the other side, FMP will continue the season with four wins on their record.
Key moments: FMP have started the game better, as they led by 5 points after first quarter, but Partizan NIS turned things around already in the second one, ending the first half with a one-point lead (43:42). For the last time, FMP were one shot away with half a minute left in the third quarter (65:62), but then a 5:0 run by the black and white followed over the next minute, which took them ahead to the 70:62 lead. FMP just could not fully recover from this blow until the end of the game. They did cut the deficit to 4 points late in the game, but could not get closer anymore.
Man of the match: Jock Landale! Partizan NIS big man shined against FMP with a double double (16 points, 10 rebounds), alongside 2 assists, 1 steal and a valuation of 29! He is our man of the match!
Can't trick the stats: Partizan NIS have outrebounded FMP 30:25. That's what was decisive in the end.