Zvezda have beaten them all!
Saturday, 15. December 2018 at 18:58
Crvena zvezda mts defeated Mega Bemax on the road and finished the 1st part of the 2018/19 ABA League regular season with the PERFECT SCORE!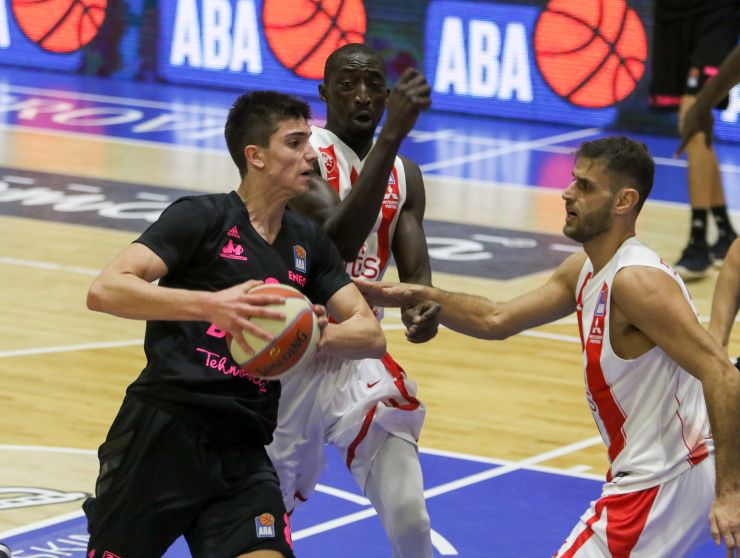 Nikola Miskovic (Photo: Mega Bemax/Ivica Veselinov)
ABA League Round 11, Saturday, 15.12.2018:
Mega Bemax - CRVENA ZVEZDA MTS 68:78 (15:20, 10:22, 22:22, 21:14)
Game recap: Crvena zvezda mts have finished the 1st part of the 2018/19 regular season with the perfect score! The red & whites defeated Mega Bemax on the road this Saturday evening and therefore scored their 11th consecutive win in the championship. It means that the Belgrade side has beaten every team in the league since start of the season, without losing a single match. Impressive!
Key moments: The visitors gained the crucial lead during the first half, which they won by 42:25. Zvezda's defense worked perfectly in those moments, but Mega Bemax still managed to make this game a bit thrilling by reducing the gap to 6 points, with 2:30 left on the game clock – 71:65. Unfortunately for the home team, Stratos Perperoglou then scored the last of his 4 three-pointers in this match and decided the winner.
Man of the match: It seems that Stratos Perperoglou is showing his best performances against the top teams of the league. He was excellent in the games against Budućnost VOLI and Partizan NIS, while this evening he was Zvezda's top scorer in the victory against Mega Bemax. Greek international scored 17 points, including that crucial 3-pointer at the end.
Can't trick the stats: Mega Bemax is the best team in the league when it comes to rebounds, but today they were just no match to Crvena zvezda mts. The visiting side had 43 rebounds this evening (!!!), which is 18 more than the home team had.