Cedevita beat Partizan NIS on the road in Belgrade
Saturday, 22. December 2018 at 19:00
Cedevita have outgunned Partizan NIS in the match of the 12th round of the ABA League season on the road in Belgrade.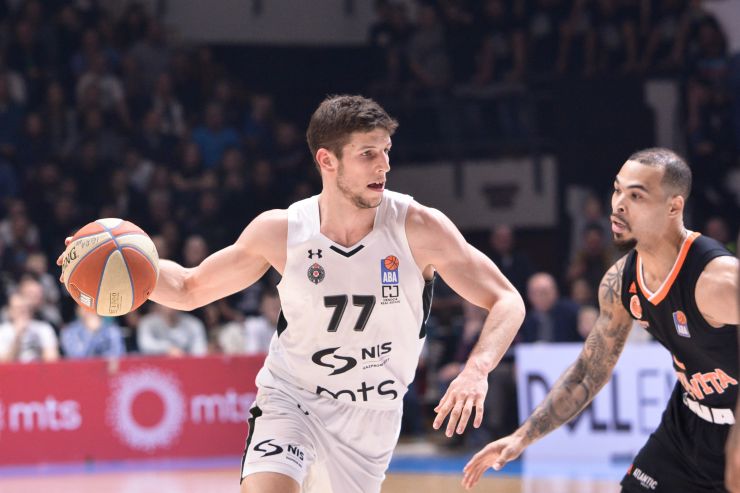 Aleksej Nikolic (Photo: Partizan NIS)
ABA League Round 12, Saturday, 22.12.2018:
Partizan NIS - CEDEVITA 71:76 (18:17, 12:25, 24:18, 17:16)
Game recap: In the amazingly important game in packed Aleksandar Nikolić Hall in Belgrade, Cedevita have grabbed a valuable pair of points in their clash against their playoffs contender Partizan NIS. It can be said that their win was in the end fully deserved, as they have taken control in the second quarter and stayed in front until the end of the game. For Cedevita this is their eighth win of the season, which keeps them firmly in the Playoffs zone, while Partizan NIS keep chasing the top four, with 6 wins on their record at the moment.
Key moments: When Rade Zagorac scored a three-pointer in the 33rd minute, Partizan NIS came close to only a point (60:59), but in the next offensive play he missed another 3-point attempt and Jacob Pullen punished the black and white on the other end of the court with a triple. When Justin Cobbs scored two free throws a few moments later, Cedevita were up 65:59 again in the 34th minute. Partizan NIS did not manage to make it anybody's game again anymore until the final minute.
The hosts cut the deficit to only 3 points in the final minute and had a chance to make the gap even smaller, but with 35 seconds left, Vanja Marinković missed the lay-up attempt and Edo Murić scored a three-pointer on the other end for the score of 74:68 with only 19 seconds left. The hunt for 2 points was over.
Man of the match: Jacob Pullen shined once more for Cedevita, as he contributed 19 points, 6 rebounds, 3 assists, 2 steals and a valuation of 23 to his team's win. He is our man of the match!
Can't trick the stats: Cedevita were shooting 3-pointers 10/24 (41.7%), while Partizan NIS were shooting them 6/32 (18.8%). This was the major difference between the two sides.