Big win for Mornar over Olimpija in Bar
Sunday, 23. December 2018 at 17:00
At home in Topolica Sports Hall in Bar, Mornar have beaten Petrol Olimpija in the thrilling ending. Petrol Olimpija keep on waiting for their first ever win in Bar.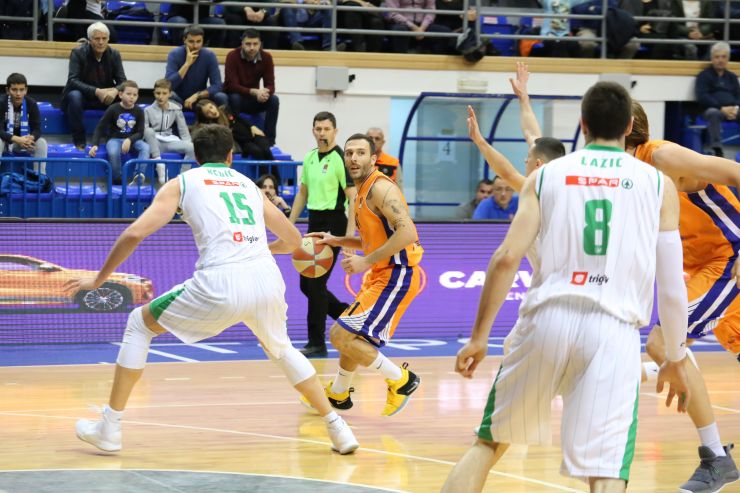 Nemanja Vranjes (Photo: Mornar/Media Pro)
ABA League Round 12, Sunday, 23.12.2018:
MORNAR - Petrol Olimpija 80:75 (18:16, 20:22, 25:22, 17:15)
Game recap: In the battle of the two teams from the bottom half of the standings, Mornar were hosting Petrol Olimpija at home in Topolica Sports Hall in Bar. In the game, which could be won by any of the two teams, the hosts were the ones to prevail in the end, after the comeback in the final 90 seconds of the clash. This is Mornar's fourth win of the season, which ties them in the standings with Petrol Olimpija… and two more teams in the eighth place in the standings.
Key moments: With 90 seconds remaining on the game clock, Petrol Olimpija were still up by 2 points (74:72), but then Strahinja Mićović came up with 5 points in a row – first a dunk, then a three-pointer, which put Mornar up 78:75 with only 40 seconds left. Jan Špan missed on the other end and Uroš Luković made a dunk with 22 seconds on the clock to put his team ahead by 5 points (80:75). The hunt for a pair of points was over.
Man of the match: Just like many times before Nemanja Vranješ shined in a close game. He led Mornar to victory with 17 points, 8 rebounds, 2 assists, just as many steals and a valuation of 21. He is our man of the match.
Can't trick the stats: Mornar have outrebounded Petrol Olimpija 24:16 in the second half and that's what eventually turned the game their way.