Match of the round: Partizan NIS host Cedevita
Friday, 21. December 2018 at 11:59
In the match of the 12th round, Partizan NIS will be hosting Cedevita at home in Aleksandar Nikolić Hall in Belgrade in the clash of two sides in excellent shape lately. The Arena will for sure be packed and we are already looking forward to a new spectacle.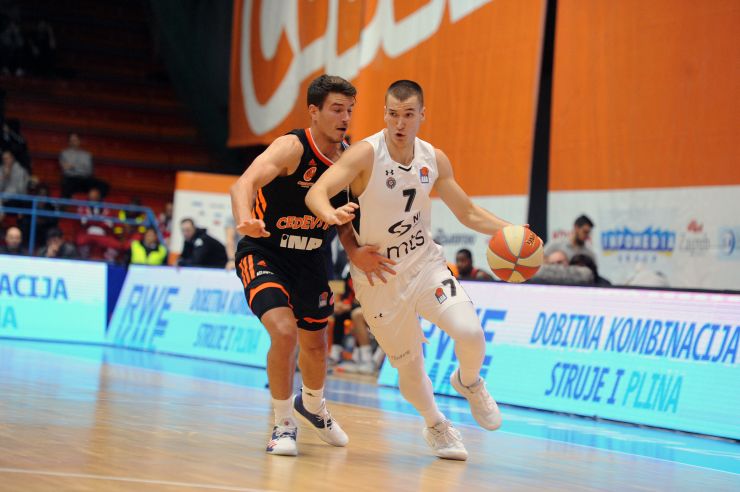 Aleksandar Aranitovic (Photo: Cedevita/Marin Susic)
ABA League Round 12, Saturday, 22.12.2018:
Where? Aleksandar Nikolić Hall, Belgrade
When? 19:00
Story of the game: Belgrade fans are expecting another full house in Aleksandar Nikolić Hall, as the black and white squad of Partizan NIS will be hosting the orange Cedevita team.
Currently, it is the battle of the third and fifth placed teams in the standings and it will be a game that would decide many things. With a victory, Partizan NIS would re-enter their battle for a Playoffs spot, while in case of a defeat, they would find themselves in the middle of the standings. On the other hand, a victory would take Cedevita into the battle for the second place, while a defeat would mean that their Playoffs berth would be endangered.
Currently, Cedevita are in a better shape than Partizan NIS, as they have won five games in a row under the guidance of Slaven Rimac. On the other side, Andrea Trinchieri's squad have 2 wins in a row, but have won only 3 times in their last 5 games.
In terms of tradition things are clear – it has been extremely difficult for Cedevita to win in Belgrade against Partizan NIS throughout the history, as they won only twice in their 10 games on the road against the black and white. But, they were able to win when it mattered the most… just remember those points scored by Nolan Smith…
How will it be this time around?
Match-up in focus: Jacob Pullen was the one to strike again in the previous round, as he scored 30 points to lead his Cedevita to the victory on the road in Bar over Mornar. On the other side, his match will be Partizan NIS shooting guard Vanja Marinković, who is in excellent shape lately. While Marinković is averaing 15.4 points per game in the ABA League this season, Pullen is averaging 19.5. Who will shine brighter this time?
Head to head in the regional league: In total 10:14; In Belgrade 8:2.