Cibona better than Petrol Olimpija in Zagreb
Sunday, 20. January 2019 at 19:00
At home in Dražen Petrović Arena in Zagreb, Cibona have beaten Petrol Olimpija and returned to the upper half of the ABA League standings.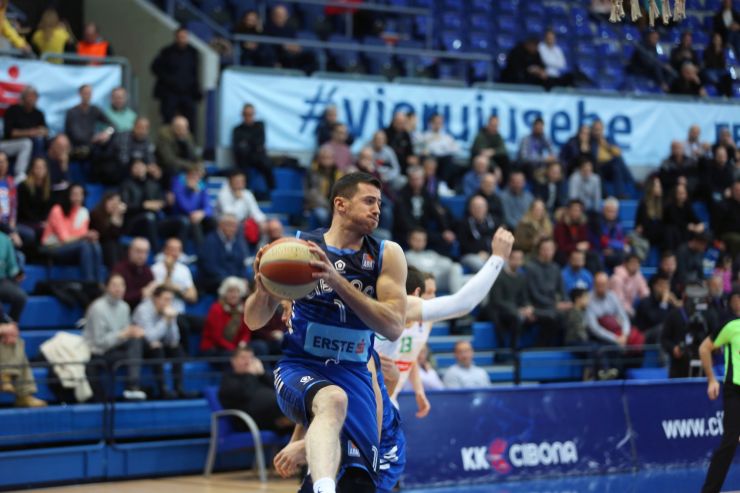 Josip Bilinovac (Photo: Cibona/Zeljko Baksaj & Gordan Lausic & Domagoj Vranar)
ABA League Round 16, Sunday, 20.1.2019:
CIBONA - Petrol Olimpija 87:70 (24:16, 21:18, 16:17, 26:19)
Game recap: In the only Sunday's ABA League game in the 16th round, two regional powerhouses met in Zagreb and it were Cibona who were the better of the two squads in the game against Petrol Olimpija. This way, Cibona have returned to the upper half of the ABA League standings, as they are now occupying the 6th place with 7 triumphs this season, while Petrol Olimpija on the other end will continue the season with 5 and continue their struggle to avoid the relegation from ABA League.

Key moments: Cibona needed less than 4 minutes to go up 9:2 and as it turned out later, Petrol Olimpija, which have entered the court on the wrong foot, haven't managed to make it an even game anymore later.

Man of the match: Filip Bundović simply shined for Cibona this time around, as he scored 21 points, grabbed 4 rebounds, threw down 2 blocks and collected the valuation of 29. He is our man of the match.

Can't trick the stats: Cibona have brutally outrebounded Petrol Olimpija (41:26). That's the reason for their convincing victory.