Zadar for safe zone, Partizan for Playoffs
Friday, 18. January 2019 at 11:00
In the opening game of the Saturday's ABA League schedule, Zadar will be hosting Partizan NIS at home in Krešimir Ćosić Sports Hall in Višnjik.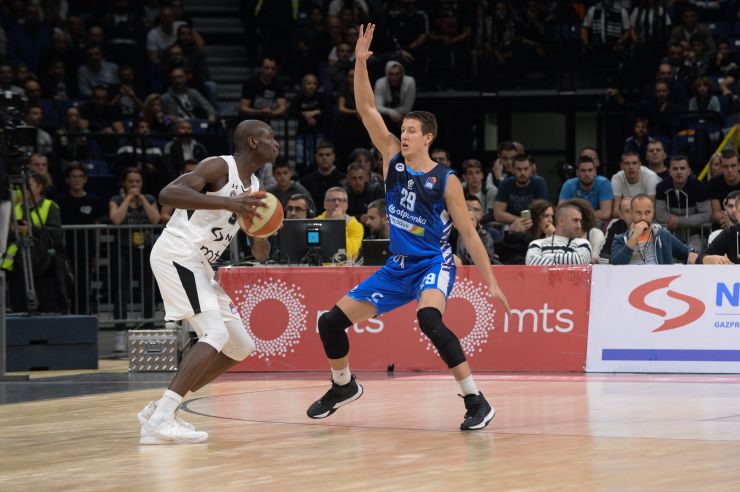 Bandja Sy (Photo: Partizan NIS)
ABA League Round 16, Saturday, 19.1.2019:
Where? Krešimir Ćosić Hall, Zadar
When? 17:00
Story of the game: It's always a big game when two regional powerhouses Zadar and Partizan NIS meet in Višnjik and it will be no different this Saturday, as the two teams have important goals on their minds.
Partizan NIS have recently climbed into the Playoffs zone and their intention is to stay there after 16 rounds. However, to be sure in this kind of a development, they need to celebrate a victory in Krešimir Ćosić's Arena, since the fifth-placed Mega Bemax are just a win behind them. On the other side, Zadar need to win in order to save themselves from the danger zone at the bottom of the standings, as they are currently just a win above the very bottom, where Krka currently stand alone.
Recently, Partizan NIS have been in better shape than Zadar, winning 4 of their last five games and the last three in a row. Zadar have won only two of their last five and lost the last one, but… tradition is at their side, as they have won 9 of their mutual encounters in Zadar against Partizan NIS so far in the regional competition and Partizan won only 4.
Match-up in focus: Former Partizan NIS guard Kwame Vaughn will have a special motive in this game, as he will try to prove his value again to the black and white fans as well and he has a special challenge this time coming up too… as he will be facing Marcus Paige on the other side, one of the best point guards of the league. While Vaughn is currently the third scorer of Zadar (13.3 points per game), Paige is currently the second scorer of Partizan NIS (12.3). However, Paige is more prolific at passing than Zadar's American (4.8 assists per game against 2.7). Whose style of game will prevail this time?
Head to head in the regional league: In total 11:18; In Zadar 9:4.