Clash of powerhouses in Dom sportova
Friday, 25. January 2019 at 11:00
In Dom sportova in Zagreb, Cedevita will be hosting Crvena zvezda mts in the opening game of the 17th round of the ABA League season. A spectacle is anticipated and only one of the two sides will be celebrating in the end!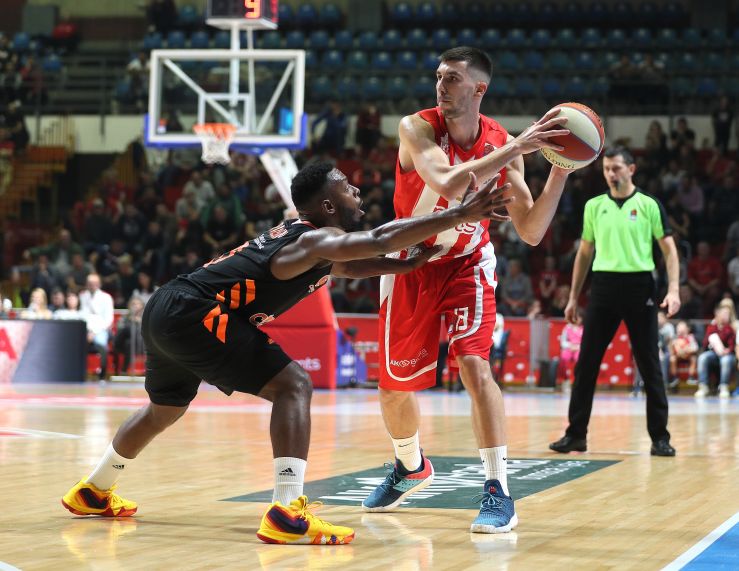 Ognjen Dobric (Photo: Crvena zvezda mts)
ABA League Round 17, Saturday, 26.1.2019:
Where? Dom sportova, Zagreb
When? 17:00
Story of the game: Can Cedevita become the first to knock Crvena zvezda mts out of their winning streak, that is lasting in the ABA League this season ever since it has begun? That's what every basketball fan in Zagreb is asking itself right now!
Cedevita have demonstrated exceptional shape lately in the ABA League and have only lost to Budućnost VOLI in the last round, tightly and on the road in Podgorica. They have won four of their last five games in the league this season. On the other side, Zvezda don't know what losing means this season. So, who will prevail?
It's difficult to predict, but of course, Zvezda's odds are looking better at the moment, as they still have a perfect record. And they also have a better all-time record in the mutual encounters of the two sides, as they have celebrated 18 times out of the 28 that the two sides have met in the regional competition. But… there's always a but – in Zagreb, Cedevita have won 8 of their games against Crvena zvezda mts and Zvezda have won only 5!
So, who would you put your money on this time?
Match-up in focus: Jacob Pullen vs. Joe Ragland! Both point guards are currently the top scorers of their respective teams and while Jacob Pullen is more efficient in scoring than Ragland (18.4 points per game versus 11.5), Ragland is more prolific when it comes to passing, as he is dishing out 5.9 assists per game and Pullen 1.9. Who will prevail in this one on one clash?
Head to head in the regional league: In total 10:18; In Zagreb 8:5.