Road win for Budućnost VOLI in Tivoli
Monday, 28. January 2019 at 21:00
Budućnost VOLI have beaten Petrol Olimpija on the road in legendary Tivoli Sports Hall in Ljubljana in the 17th round of the ABA League season. This is their 12th win of the season, which puts them on second place, together with Cedevita, with 5 rounds remaining in the regular season.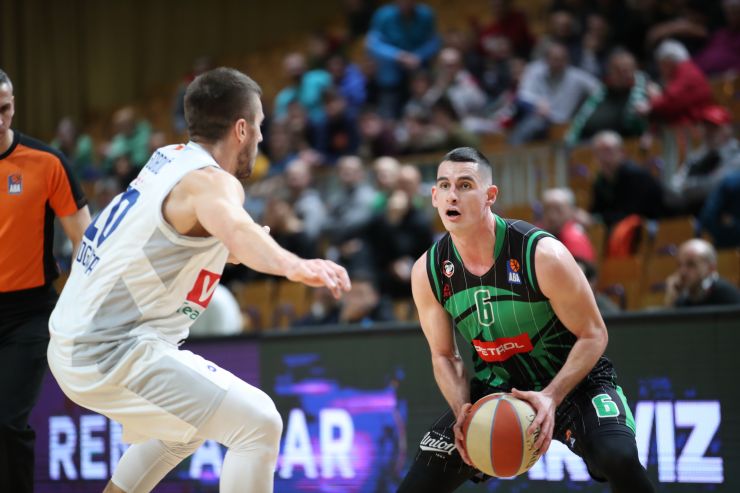 Jan Span (Photo: Petrol Olimpija/Ales Fevzer)
ABA League Round 17, Monday, 28.1.2019:
Petrol Olimpija - BUDUĆNOST VOLI 72:77 (23:23, 15:30, 19:11, 15:13)
Game recap: The reigning ABA League champions of Budućnost VOLI keep marching towards the ABA League Playoffs this season. They have grabbed their 12th triumph of the season with a road victory over Petrol Olimpija in Tivoli Sports Hall in Ljubljana. This win puts the Podgorica squad on the second spot in the ABA League standings after 17 rounds. On the other side, Petrol Olimpija continue their battle to avoid relegation, as they are placed at the bottom of the standings, together with Krka and Zadar, with 5 triumphs collected in 17 rounds.
Key moments: With one minute into the second quarter, Petrol Olimpija were still ahead 27:26, but then Budućnost VOLI replied with a 12:0 run over the next 3 minutes, which put them up by 11 (38:27). As it turned out later, the Dragons just could not endanger their lead until the end of the game, even though they did come close late in the game.
Man of the match: Edwin Jackson dominated the court in Tivoli by leading his team in scoring with 18 points, while adding 2 rebounds, 1 assist and a steal to his stats. He had a valuation of 14 and is our man of the match.
Can't trick the stats: Budućnost VOLI did not dominate any statistical category in particular, but they were slightly better in each of them. This was in the end enough for the victory.