Zvezda returned to the winning track
Saturday, 02. February 2019 at 19:00
In the 18th round of the ABA League season, Crvena zvezda mts have beaten Petrol Olimpija at home in Aleksandar Nikolić Hall in Belgrade and have returned to the winning path following last round's defeat against Cedevita.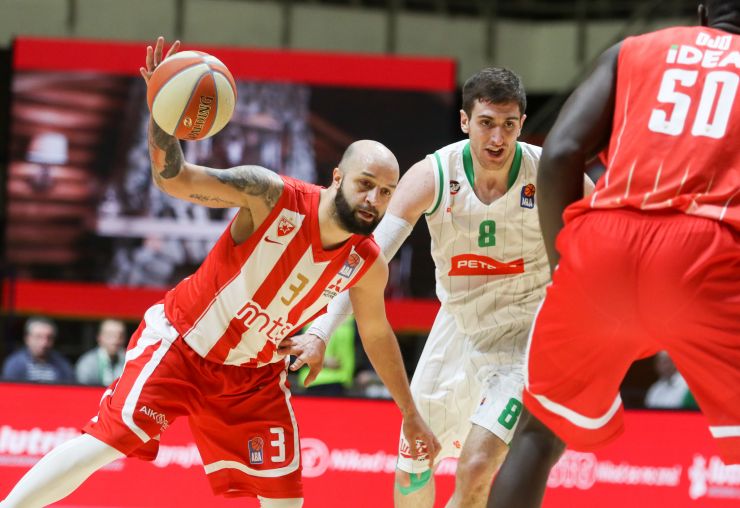 Filip Covic (Photo: Crvena zvezda mts)
ABA League Round 18, Saturday, 2.2.2019:
CRVENA ZVEZDA MTS - Petrol Olimpija 89:61 (24:19, 25:10, 17:18, 23:14)
Game recap: Crvena zvezda mts have proven that their first defeat of the ABA League season in the 17th round against Cedevita has only been a coincidence. The red and white have demonstrated a solid performance to show off Petrol Olimpija at home in Aleksandar Nikolić Sports Hall in Belgrade. This is the 17th win of the season for Zvezda, which keeps them firmly in the first place in the standings. On the other side, Petol Olimpija continue the season with 5, at the very bottom of the ABA League stadnings, alongside Krka and Zadar.
Key moments: After Crvena zvezda mts finished the first quarter with a 5-point lead (24:19), Petrol Olimpija fans have been hoping that their team would bounce back in the second quarter, but instead, Zvezda opened the quarter with a 14:2 run in the first five minutes of the period and pulled away to a 17-point margin (38:21). As it turned out later, the Dragons did not manage to return into the battle for a pair of points until the end of the game.
Man of the match: Filip Čović was a starter for Crvena zvezda mts in this game and he has absolutely warranted the trust. He finished the game with 10 points, 12 assists, 2 rebounds, 1 steal & valuation 23! He is our man of the match!
Can't trick the stats: Crvena zvezda mts have been absolutely dominant on the glass with 42 rebounds in comparison to 26 of Petrol Olimpija. That's what was crucial for the outcome of the game.