Spars win the derby match against Dynamic VIP PAY
Wednesday, 30. January 2019 at 14:51
Sarajevo squad prevailed in dramatic ending.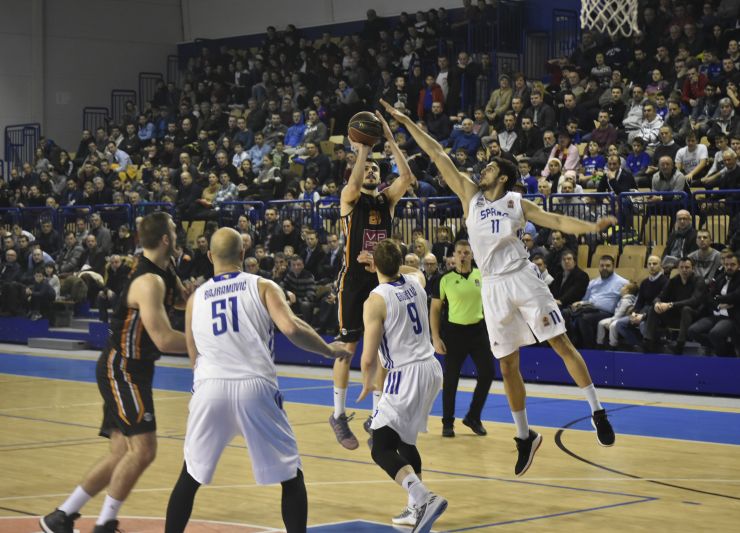 (Photo: Spars/Damir Hodzic)
2018/19 ABA League 2 regular season, Round 18, Wednesday, 30.1.2019:
SPARS - Dynamic VIP PAY 88:84 (12:26, 28:22, 22:18, 26:18)
What a game in Sarajevo! Spars have defeated Dynamic VIP PAY after performing a stunning comeback. The home team were down by 14 points already after the 1st quarter, but then they started reducing the gap bit by bit. Finally, Spars squad managed to take over the lead in the last quarter and then to keep it until the end.
In dramatic finish Spars were up by 81:80, while then Dynamic VIP PAY point guard Petar Rakićević missed a 3-pointer, with just 1 minute left on the game clock. On the other end of the court Draško Albijanić made a 2-pointer and increased the lead of the home team to 83:80. As Dynamic VIP PAY squad failed to score in their next ball-possession, Spars only needed to make their free throws to stay in front. And the squad from Sarajevo did make 5 out of 6 free throws in the last 30 seconds of the match and scored quite a valuable win - 88:84.
Spars therefore continue their big battle with MZT Skopje Aerodrom for the 2nd spot on the standings, while Dynamic VIP PAY have suffered a major setback in their Playoffs race.