Cedevita keep the second place with the win in Laktaši
Saturday, 02. February 2019 at 21:00
On the road in Laktaši, Cedevita have beaten Igokea and will be keeping their second place in the ABA League standings after 18 rounds.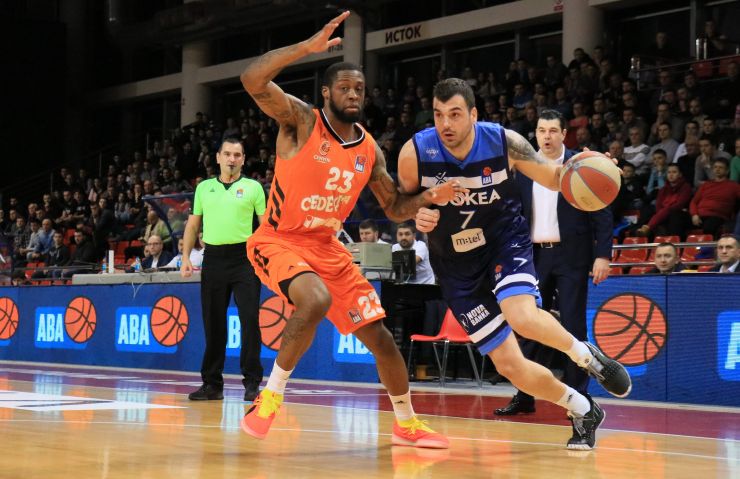 Sava Lesic (Photo: Igokea/Nenad Vuruna)
ABA League Round 18, Saturday, 2.2.2019:
Igokea - CEDEVITA 75:78 (15:21, 13:19, 26:19, 21:19)
Game recap: Cedevita keep marching towards the ABA League Playoffs and they have made another step towards reaching this goal with the road win over Igokea in Laktaši. This win puts Cedevita in the second place in the standings with 13 victories. On the other side, Igokea continue the season with 6 on their record, one more than the three teams at the bottom of the standings and will have to continue to grind in order to escape the danger zone at the league's bottom.
Key moments: Cedevita were up with the double-digit lead earlier in the game, but when Filip Adamović scored 2 free throws with 2 minutes remaining on the game clock, Igokea took the lead with the score of 73:72. However, Jacob Pullen scored a free throw, which started Cedevita's 6:0 run, to tie the game at 73:73 in the next possession. What was crucial happened in the next half a minute. Vuk Radivojević and Filip Adamović missed three-pointers and it was Justin Cobbs who scored between the two attempts, to lead his team to a 75:73 lead. In the final minute, Cedevita just used their focus to grab a final victory with the score of 78:75.
Man of the match: Toni Katić was the game's MVP for Cedevita, as he scored 15 points, while adding 2 rebounds, assists and steals apiece to his stats, to lead his team to the victory with the valuation of 19. He is rightfully our man of the match!
Can't trick the stats: Cedevita have outrebounded Igokea 35:28 and that's what gave them the win in the end.