Big win for Krka – Cedevita have fallen in Novo mesto
Saturday, 02. March 2019 at 19:00
Krka have achieved a huge win in their battle to avoid relegation from the ABA League, as they have beaten Cedevita at home in Leon Štukelj Hall, Novo mesto.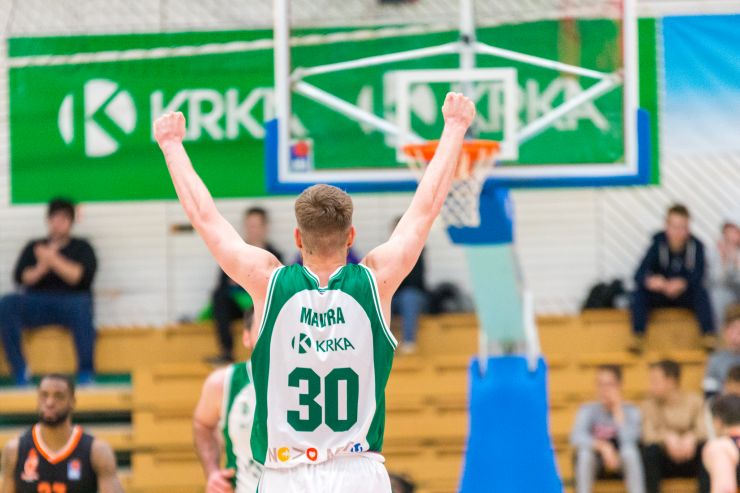 Dominik Mavra (Photo: Krka/Robi Verbajs)
ABA League Round 20, Saturday, 2.3.2019:
KRKA - Cedevita 82:71 (15:24, 26:12, 23:19, 18:16)
Game recap: Upset in Novo mesto! Second-placed Cedevita have been defeated by last placed Krka and this is a huge win for the home side in their struggle to avoid the last place in the standings, which means relegation from the first division of the ABA League. This way, Krka have tied themselves in the 11th place in the standings with Petrol Olimpija, with the latter still having their 20th round game to play and they will do it on Monday on the road against FMP. On the other side, this is a big blow for Cedevita, since they have only had one win of advantage ahead of Budućnost VOLI and Partizan NIS in the standings and in case they win this round, they will have to share the second place in the standings with them, meaning new worries in the battle for the second place in the regular season and home court advantage in the Semi-finals.
Key moments: With more than 4 minutes remaining in the third quarter, Krka were still ahead by only 4 points (51:47), but then a 10:2 run followed by Krka over the next 3 minutes, which gave them a double digit lead 61:49 with only a minute remaining in the third quarter. In the remainder of the game Cedevita tried their best to get back in the game and they made the game interesting again in the final quarter, but they haven't managed to turn it completely around.
Man of the match: There can only be one name – Dominik Mavra! The excellent guard of Krka, spent less than 30 mintues on court in the game against Cedevita, but used them to score 35 points, dish out 5 assists, grab 3 rebounds and collect an amazing valuation of 37! He is rightfully our man of the match!
Can't trick the stats: Field goal scoring was the one that gave victory to Krka – they scored 31 out of their 61 attempts of shot from the field (50.8%), while Cedevita scored only 21 out of their 57 attempts (36.8%). This was crucial in the end.