Spars win the thriller against Sutjeska and book a ticket for the 2019 ABA 2 Playoffs
Thursday, 28. February 2019 at 16:52
The boys from Sarajevo made a 17:0 run in the last quarter and seized such a valuable win.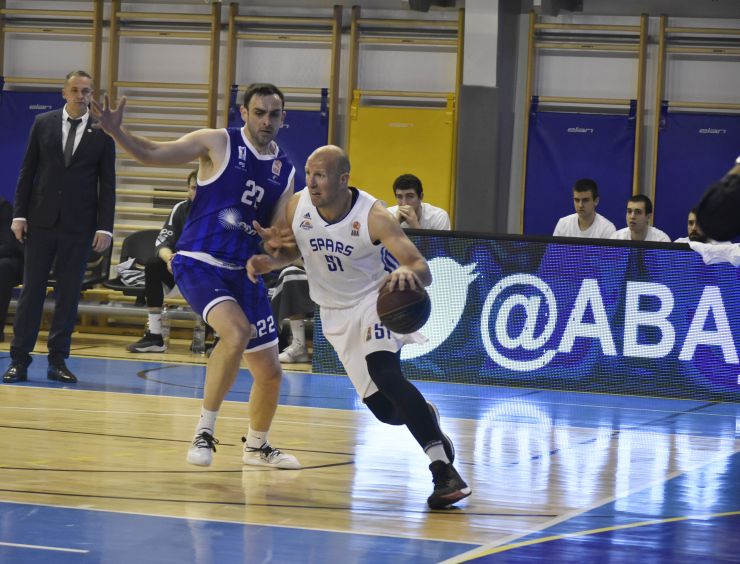 Kenan Bajramovic (Photo: Spars/Damir Hodzic)
2018/19 ABA League 2 regular season, Round 20, Thursday, 28.2.2019:
SPARS - Sutjeska 76:74 (17:23, 25:16, 10:24, 24:11)
Spars have done it! They defeated Sutjeska in a thrilling match this Thursday evening and therefore qualified for the 2019 ABA 2 Playoffs! The boys from Sarajevo will now just try to secure the 2nd spot in the remaining 2 rounds of the regular season in order to have a home court advantage in the semifinals.
On the other side, Sutjeska made a step back in their Playoffs race, but they still have chances to reach the 4th spot on the standings in the remaining 2 rounds.
The game itself was very exciting. Spars had the lead at the halftime, but then Sutjeska started hitting 3-pointers in the 3rd quarter and the visitors took over the lead. Sutjeska were up by 68:57 with 8 minutes left on the game clock in the 4th quarter, however then the away team simply stopped! The Nikšić side scored their next points on 20 seconds before the end of the game, which means that they were without points for almost 8 minutes!
Meanwhile, Spars made a 17:0 run and went ahead – 74:68. In the last seconds of the match, Sutjeska managed to reduce the gap to just 1 point – 75:74, and they made a foul on Nemanja Protić who scored the 1st free throw – 76:74, but he missed the 2nd one... Still, Spars players managed to grab the ball and to keep it until the end.
It is interesting to mention that Sutjeska made 45 attempts for 3-points in this match.