Cedevita better than Olimpija in Tivoli
Sunday, 10. March 2019 at 17:00
On the road in Tivoli Sports Hall, Cedevita have outgunned Petrol Olimpija thanks to amazing shooting performance.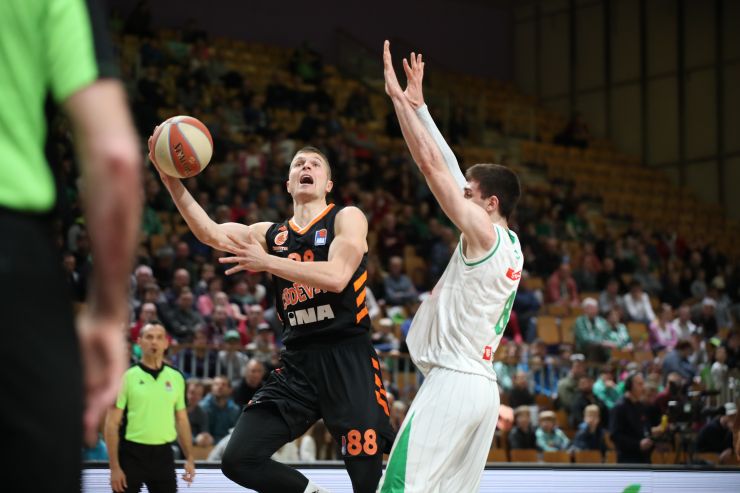 Edo Muric (Petrol Olimpija/Ales Fevzer)
ABA League Round 21, Sunday, 10.3.2019:
Petrol Olimpija - CEDEVITA 70:98 (29:29, 11:22, 14:20, 16:27)
Game recap: In legendary Ljubljana's Tivoli Sports Hall, Cedevita have edged out Petrol Olimpija in the important clash for both sides. This is the 15th win for Cedevita, which already guarantees them at least third place in the ABA League standings at the end of the regular season and a good chances to finish second. On the other side, Petrol Olimpija continue the season with 6 victories and they will need to win in the last round on the road in Krka in order to avoid the relegation from the ABA League first division.
Key moments: Amazing first half shooting performance was crucial for Cedevita's advantage. They have been increasing their advantage step by step through the first quarter, shooting three-pointers unstoppably (7/9 or 78%) and went to the big break with a double-digit lead (51:40). That was a point from which there was no chance of return for Petrol Olimpija.
Man of the match: Elgin Cook was the man of the match for Cedevita, as he scored 22 points (3/4 for 3 points), while adding 3 rebounds, 2 assists, 1 steal and a valuation of 20 to his stats. He is our man of the match.
Can't trick the stats: As mentioned earlier, Cedevita were shooting 3-pointers with a fantastic percengage of 71% (12/17). That's what turned the game their way.