Budućnost beat Mega and stay in the race for the 2nd spot
Monday, 11. March 2019 at 17:58
Goga Bitadze had no mercy toward his former team.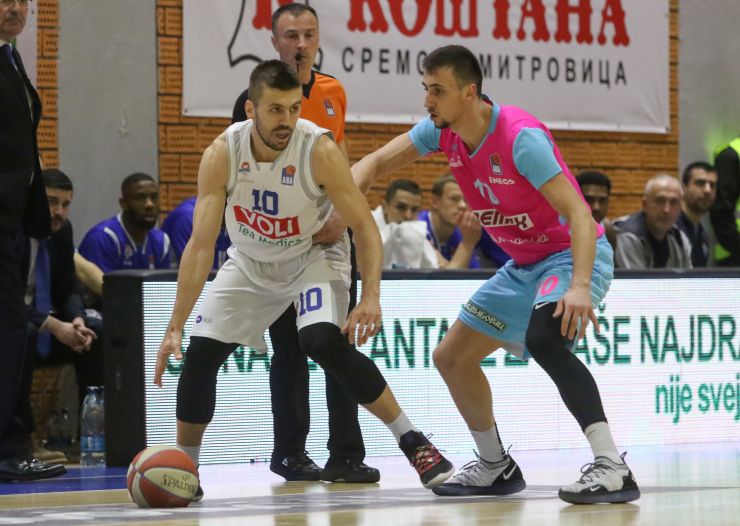 Nemanja Gordic (Photo: Mega Bemax/Ivica Veselinov)
ABA League Round 21, Monday, 11.3.2019:
Mega Bemax - BUDUĆNOST VOLI 70:77 (11:17, 18:19, 15:19, 26:22)
Game recap: The race for the 2nd spot will be decided in the last round of the regular season! Budućnost VOLI defeated Mega Bemax on the road this Monday evening and therefore tied their score with 2nd placed Cedevita. Still, in order to finish the regular season in front of the Zagreb crew, Budućnost VOLI will have to win the next week match against Cibona and to hope that Cedevita will lose their match against Mornar. In any case, the last round of the 2018/19 regular season will be quite interesting.
Speaking about this match, Budućnost VOLI have been in front throughout the whole game. The reigning ABA League champions haven't really presented their best performance, but they used a pretty bad shooting night of Mega Bemax to score a comfortable win.
Key moments: Mega Bemax managed to reduce the gap to 7 points at the start of the 4th quarter - 58:51, however Budućnost VOLI responded with the crucial 9:2 run and escaped once again to a double digit lead - 67:53. The visiting squad had no problems keeping the lead in the rest of the match.
Man of the match: This was the first time in his career that Goga Bitadze played against Mega Bemax and the young center did not have mercy toward his former team. Bitadze was the game top scorer with 22 points, he also had 8 rebounds, while with the overall index rating of 31 he also won the MVP of the round award!
Can't trick the stats: We wrote that Mega Bemax had a pretty bad shooting night and here you can see the numbers - 22/51 FG2, 3/25 FG3, 17/26 FT. That's just way too many missed shots to even think about beating the reigning champions.