Partizan NIS seeking their way towards third place against FMP
Friday, 15. March 2019 at 11:00
In the last round of the ABA League regular season FMP will be hosting Partizan NIS at home in FMP Arena in Belgrade.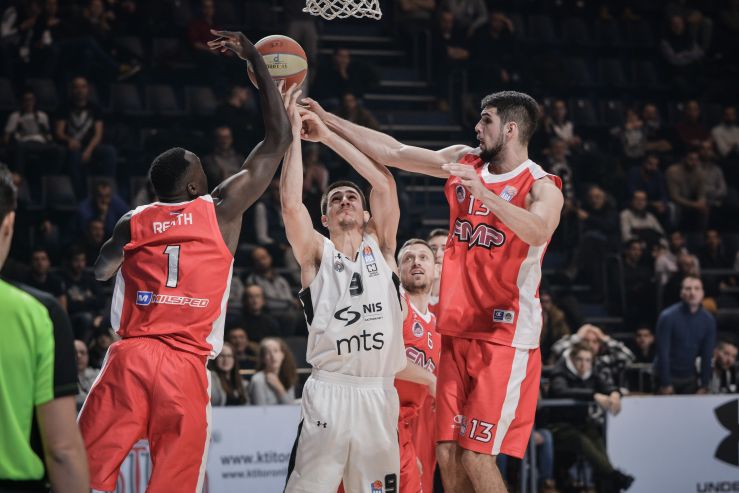 (Photo: Partizan NIS)
ABA League Round 22, Saturday, 16.3.2019:
Where? FMP Arena, Belgrade
When? 17:00
Story of the game: In the opening game of the Saturday's ABA League schedule, FMP will be hosting Partizan NIS in a game which will be very important for both sides. While Partizan NIS are still hoping of a scenario, where they could take the third place in the standings at the end of the regular season, FMP are hoping to end the season in the upper half of the standings, as they still have chances open of taking the final sixth place.
For FMP's dream scenario to come true, they would need to beat their city rivals in the last round, while Cibona would need to lose their last round game against Budućnost VOLI. On the other side, on the contrary, Partizan NIS need to win in order to get into the race for the third place, but they also need Budućnost VOLI to be defeated by Cibona. This combination would secure them third place at the end of the regular season and avoiding facing first placed team after the regular season Crvena zvezda mts in the Semi-finals.
In the first game of the two teams, Partizan NIS were better than FMP. They are also much better in mutual encounters of the two teams in the history of the regional competition, winning 16 of their 20 games played so far. They have also won 6 out of 9 games on the road against FMP by the date.
How about the current shape? While FMP have lost their last game, Partizan NIS have won it. And while FMP have won 3 out of their last 5 games in the ABA League, Partizan NIS have won 4. It will for sure be an interesting game.
Match-up in focus: Duop Reath or Jock Landale? Who will come out on top in the battle in the paint this time around? Reath is currently the third best scorer of FMP with an average of 8.6 points scored per game, while Jock Landale is the most efficient in scoring at Partizan NIS with 12.3 points per game. Both of them are the top scorers of their teams, with Landale being a bit more efficient in rebounding than Reath (6.2:5.3 rebounds per game). Who will win this upcoming battle?
Head to head in the regional league: In total 4:16; At FMP's home court 3:6.