Big win for FMP – Panthers downed Playoffs-bound Partizan NIS
Saturday, 16. March 2019 at 17:00
In their last game of the ABA League season, FMP have achieved a sweet triumph after a dramatic ending, as they have beaten Partizan NIS at home in Belgrade.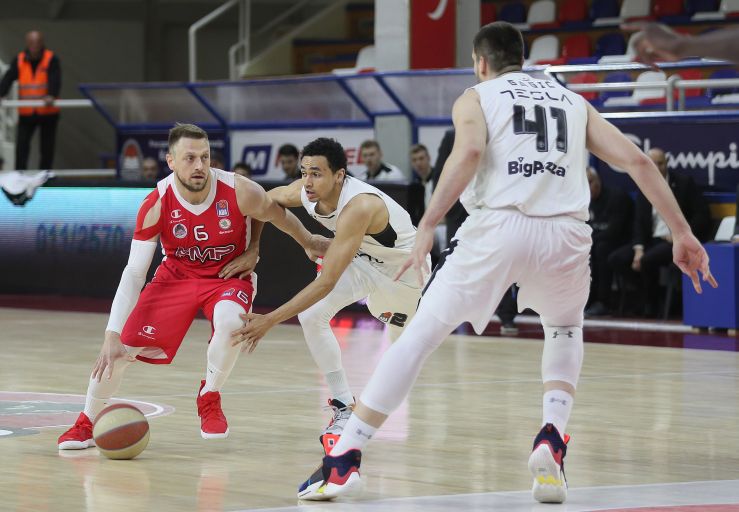 Marko Jeremic (Photo: FMP)
ABA League Round 22, Saturday, 16.3.2019:
FMP - Partizan NIS 73:72 (18:17, 27:22, 16:17, 12:16)
Game recap: FMP have ended their ABA League season just the way they have desired – with a sweet home court win over Partizan NIS in Belgrade and they did it with style, after a dramatic ending in which they have prevailed over their city rivals. With this win, their tenth of the season, FMP stay in the race for the upper half of the standings at the end of the ABA League season. On the other side, Partizan NIS are ending their regular season in the ABA League with 14 triumphs and now it is already clear that they will finish the regular season in the fourth place and will be facing Crvena zvezda mts in the Semi-finals of the ABA League season.
Key moments: It has been practically anybody's game all until the final seconds of the game. After Marcus Paige took Partizan NIS in front by a point (71:72) with just a bit more than a minute on the game clock, it turned out that Duop Reath was the one that set the final score of the game with 50 seconds remaining, as he scored for the score of 73:72. Both teams were unsuccessful in their next possessions and it was Paige again at the perimeter with 8 seconds left. He fired, but missed, FMP got the rebound and the hosts celebrated the victory.
Man of the match: Young gun Aleksa Uskoković was the man for FMP. In 37 minutes spent on court for his team, he was the second best scorer of his squad with 15 points, while adding 9 assists, 3 rebounds, 1 steal, 1 block and a valuation of 15 to his stats. He is our man of the match!
Can't trick the stats: It is logical, that there weren't many differences in the stats of both teams, as FMP have celebrated a victory by a single point margin.