It's one of the most important games in the history of their rivalry - Krka vs. Petrol Olimpija
Saturday, 16. March 2019 at 11:37
Whoever loses this match will be relegated to ABA League 2.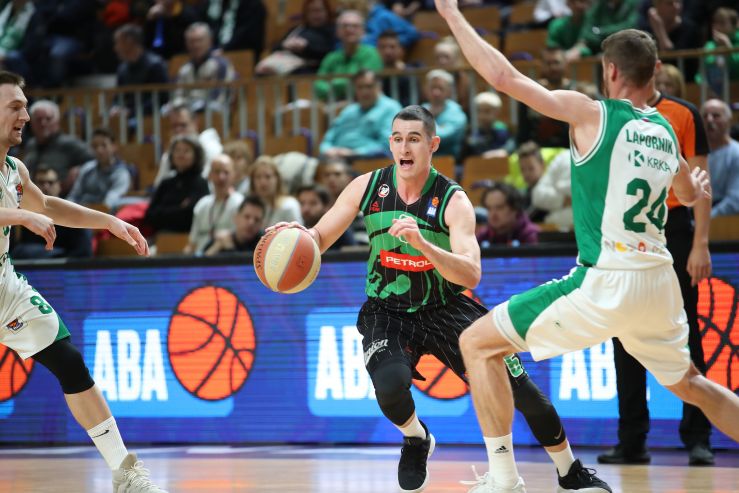 Jan Span (Photo: Petrol Olimpija/Ales Fevzer)
ABA League Round 22, Sunday, 17.3.2019:
Where? Leon Štukelj Hall, Novo mesto
When? 21:00
Story of the game: Krka and Petrol Olimpija have played many big games in the past. But, the next one is definitely unlike any other before. Because for the first time in their history, these two local rivals will face each other in the direct battle to avoid relegation from ABA League 1.
Krka and Petrol Olimpija are currently the two last placed teams on the standings with the same overall score: 6 wins and 15 defeats. Therefore one thing is certain - whoever loses the upcoming match will finish the 2018/19 ABA 1 regular season at the last place and will therefore be relegated to ABA 2.
And now let's see what happens with the winner.
If Petrol Olimpija win this match they will definitely secure the ABA 1 status for the 2019/20 season, because they will then finish the 2018/19 regular season at the 10th place (Petrol Olimpija have a better head to head score against both Igokea and Zadar).
On the other side, if Krka win the upcoming match they will move up to the 10th place only if Igokea beat Zadar. But, if Krka beat Petrol Olimpija and Zadar beat Igokea it will mean that Krka will finish the regular season at the 11th place and will therefore have to play in the ABA Qualifiers with the losing side of the 2019 ABA 2 Finals.
Anyway, the very last match of the 2018/19 ABA League regular season should be a true thriller. After all, just remember their previous clash in this season...
Match-up in focus: Luka Lapornik (Krka) vs. Miha Lapornik (Petrol Olimpija). Luka Lapornik is the top scorer of Krka in the ongoing season, while Miha Lapornik is the 2nd best scorer of Petrol Olimpija in the 2018/19 campaign. They are both shooting guards, which means that they will have a direct duel on Sunday evening.
Head to head in the regional league: In total 7:18; In Novo mesto 4:7.