Cedevita beat Mornar and seal the 2nd spot in the regular season
Friday, 15. March 2019 at 17:58
The Orange troops will have a home court advantage in the semi-finals!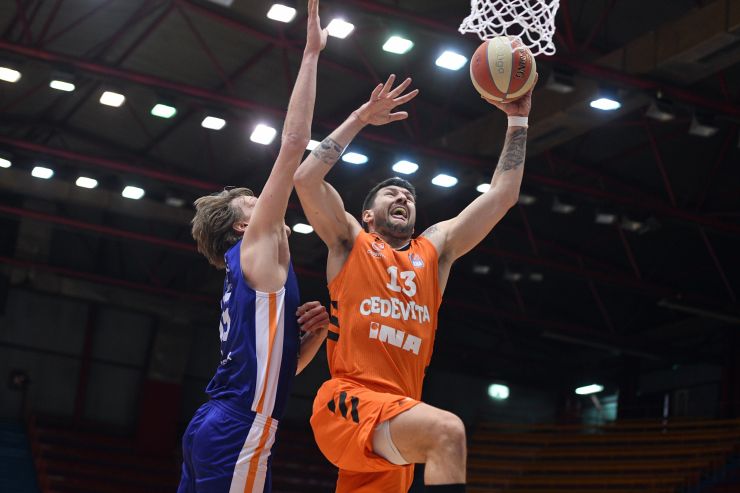 Andrija Stipanovic (Photo: Cedevita/Marin Susic)
ABA League Round 22, Friday, 15.3.2019:
CEDEVITA - Mornar 94:80 (26:20, 18:17, 28:22, 22:21)
Game recap: Cedevita have done it! By beating Mornar in the last round of the 2018/19 ABA League regular season, the Orange troops have sealed the 2nd position on the standings and will therefore have a home court advantage in the semi-finals. Now, Cedevita are only waiting to see which team they will play against in the semis - Budućnost VOLI or Partizan NIS.
Key moments: Despite not being able to count on two important players Nikola Rebić and Nemanja Vranješ, Mornar crew were quite good in the 1st half. The visitors played good basketball on both ends of the court, however they just could not find a way to stop Cedevita's shooting guard Filip Krušlin who made 4 three-pointers in the opening 20 minutes and helped his team to go up by 7 until the halftime - 44:37. The 3rd quarter was the key. Cedevita scored no less than 28 points in this period and escaped to a double-digit lead - 72:59. The home team have remained in front until the end of the match.
Man of the match: That would be Filip Krušlin. Cedevita's sharpshooter made five 3-pointers this evening for the total number of 15 points, while he also had 6 assists. His overall index rating was 23.
Can't trick the stats: Cedevita had more steals, more assists and less number of turnovers than Mornar this evening. At the end of the day, the home squad were just better this time, simple as that.