Zvezda are ready for the Playoffs
Saturday, 16. March 2019 at 18:58
The red & whites scored 100 points and defeated Mega Bemax in the last round of the 2018/19 ABA League regular season.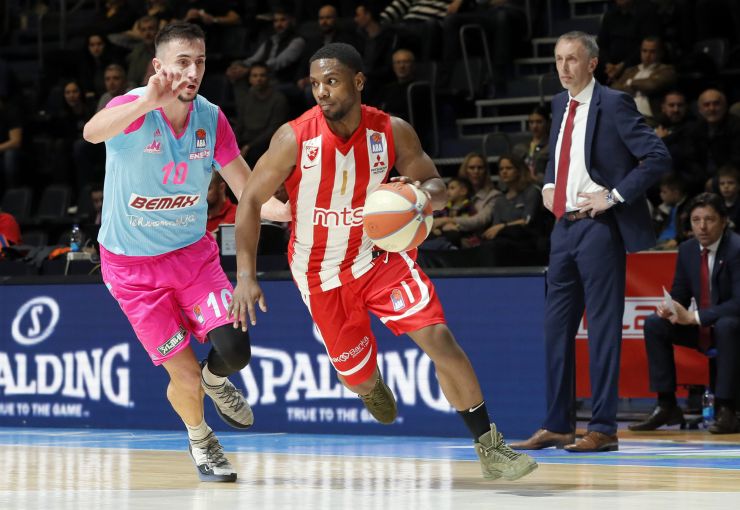 Joe Ragland (Photo: Crvena zvezda mts)
ABA League Round 22, Saturday, 16.3.2019:
CRVENA ZVEZDA MTS – Mega bemax 100:76 (20:23, 37:10, 25:25, 18:18)
Game recap: Crvena zvezda mts have showed to everyone that they are ready for the 2019 ABA Playoffs. The red & whites scored 100 points and seized a comfortable win against Mega Bemax, so they finished the 2018/19 regular season with an impressive record: 21 wins and just 1 defeat. On the other side, Mega Bemax ended their 2018/19 ABA journey with the overall score of 10-12.
Crvena zvezda mts will play against their arch rivals Partizan NIS in the 2019 ABA league Semi-Finals.
Key moments: You should just take a look at the score of the 2nd quarter. Crvena zvezda mts started that period with a 3-point deficit – 20:23, while they ended it with a 24-point lead - 57:33! After playing one of their best quarters in the entire season, the home side had no troubles staying in front until the end of the match.
Man of the match: Zvezda's young power forward Boriša Simanić shined this evening. He finished the match with 14 points and 7 rebounds, while his overall index rating was 26.
Can't trick the stats: At the end of the day that 37:10 score in the 2nd quarter is all the stats you need. And on top of that, Zvezda had 10 assists more than Mega Bemax.