Crvena zvezda mts take the lead in the Semi-finals
Saturday, 23. March 2019 at 19:00
In the first game of the Semi-final series of Crvena zvezda mts and Partizan NIS, the red and white have celebrated at home and are 1:0 up in the series. Only a win separates them from entering the Finals now.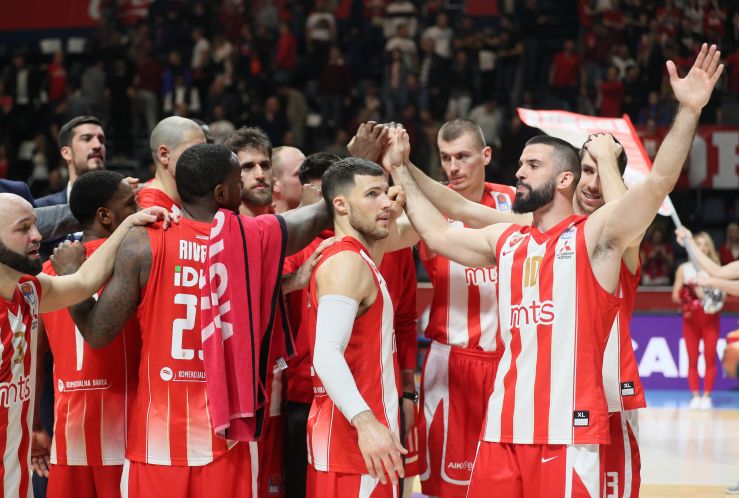 Crvena zvezda mts team (Photo: Crvena zvezda mts)
ABA League Semi-finals, Round 1, Saturday, 23.3.2019:
CRVENA ZVEZDA MTS - Partizan NIS 106:101 (23:16, 15:24, 24:28, 25:22, 21:16)
Game recap: What an opener to the 2019 ABA League Playoffs! They have started with a bang, with an eternal derby of Crvena zvezda mts and Partizan NIS in the packed Belgrade's basketball temple Aleksandar Nikolić Hall and… Crvena zvezda mts have topped Partizan NIS after overtime to take the lead with 1:0 in the Semi-final series against their city arch rivals. The red and white now need only one more win in order to reach the ABA League Finals and we will have to wait and see whether Partizan NIS can bounce back next week in Game 2 in front of their fans.

Key moments: After a thrilling regular time of the game, it has been Alex Renfroe to score a lay-up with 2 seconds left on the clock in order to take the teams to overtime with the score of 85:85.
In the overtime, Zvezda have been in front for the majority of the time, but it has been Rade Zagorac, who scored a three-pointer to tie the teams at 96:96 with a bit more than a minute left on the game clock. As the final minute began, Billy Baron stepped up for Crvena zvezda with an and 1 play to take his team ahead 99:96 and increased the lead afterwards to 101:96 in the next possession. 37 seconds remained on the game clock and there was no chance of return for Partizan NIS left until the end.
Man of the match: Dejan Davidovac simply dominated the court whenever he was on and he achieved 18 points, 6 rebounds, 2 assists, 1 steal, 1 block and a game-high valuation of 26! He is our man of the match.

Can't trick the stats: In a close game like this it's not surprising that the teams were almost even in all of the statistical categories.