Cedevita take the lead in the semi-final series against Budućnost VOLI
Monday, 25. March 2019 at 18:58
The Orange troops are now just a win away from advancing to the 2019 ABA Finals!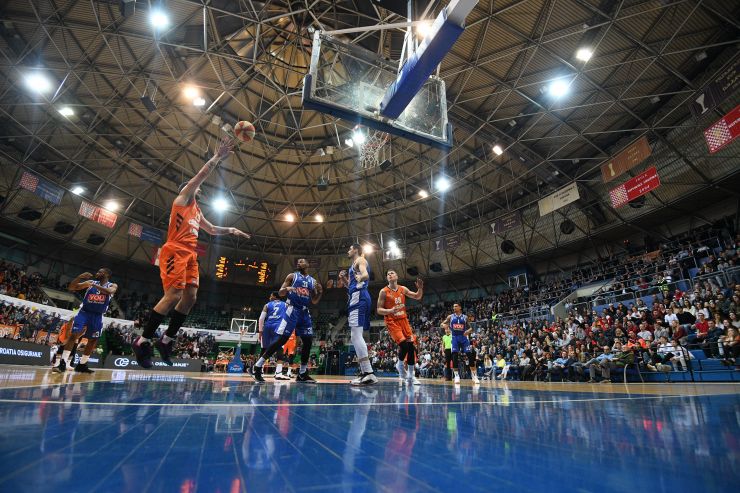 (Photo: Cedevita/Marin Susic)
ABA League Semi-finals, Round 1, Monday, 25.3.2019:
CEDEVITA - Budućnost VOLI 90:83 (21:18, 16:20, 28:21, 25:24)
Game recap: The Orange team is celebrating this Monday evening! Cedevita defeated Budućnost VOLI in front of 4,500 fans in Dražen Petrović Hall and took the lead in this semi-final series. We watched a big battle down on the court as each side really gave its best to win the match. Eventually, Cedevita's deadly duo Cobbs-Pullen made difference by scoring 43 points combined for the home team.
Game 2 in this series will be played in Podgorica on Sunday, March 31. If Cedevita win that match they will advance to the 2019 ABA League Finals. If Budućnost VOLI manage to tie the score in this series, then Game 3 will be played in Zagreb on April 7.
Key moments: Cedevita were up by 76:73, with 4 minutes left on the game clock, while Budućnost VOLI had a fast-break to reduce the gap. However, Petar Popović missed an open-lay up, while then Goga Bitaedze and Earl Clark also missed open shots after making offensive rebounds! And the visitors were punished for those 3 missed shots. Cedevita made 4 points in a row and escaped to 80:73. For this kind of game, a 7-point lead was a huge advantage and Cedevita have remained in front until the end.
Man of the match: Justin Cobbs was a true leader of the Orange troops. He was the top scorer of Cedevita with 23 points, while he also made 5 assists. And his defense was exceptional this evening.
Can't trick the stats: Cedevita won the battle in the paint. The home team had 7 rebounds more than Budućnost VOLI squad, while some of their offensive rebounds were very important in the key moments of this match.