Budućnost VOLI beat Cedevita and force Game 3 in this semi-final series
Sunday, 31. March 2019 at 18:58
The reigning champions are still alive in the 2019 ABA League Playoffs!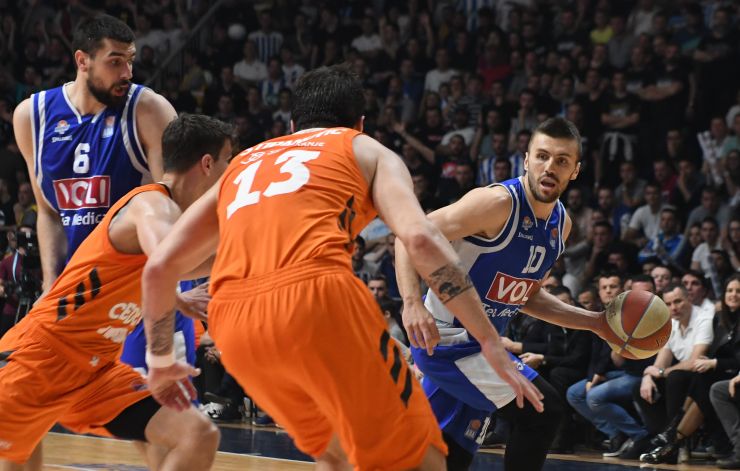 Nemanja Gordic (Photo: Buducnost VOLI)
ABA League Semi-finals, Round 2, Sunday, 31.3.2019:
BUDUĆNOST VOLI - Cedevita 87:72 (16:17, 17:14, 25:19, 29:22)
Game recap: We had another spectacular game in the 2019 ABA Playoffs! Budućnost VOLI defeated Cedevita in packed Sports Center Morača and tied the score in this semi-final series to 1-1! It means that Game 3, which will be played in Zagreb on April 7, will determine which of these two teams will qualify for the 2019 ABA Finals.
Key moments: The final score might trick you, as the game was quite thrilling until the middle of the 4th quarter. Budućnost VOLI were up by 65:62, with 6-and-a-half minutes left on the game clock, while then the home team scored 3 consecutive three-pointers and increased their lead to 74:64! It was the key period in this match, as those 3-pointers definitely broke the visiting team who did not have enough strength for a late comeback.
Man of the match: There are several candidates for this title, especially because Budućnost VOLI had 6 players who reached double digits this evening. Still, let's say that the best of the best was Edwin Jackson who was the team top scorer with 15 points, while the Frenchman also did an impressive job in defense.
Can't trick the stats: Apart from having more rebounds and assists, it is very important to mention that Budućnost VOLI scored 8 three-pointers in the 2nd half of this match. And, as we have already stated, some of them were the key for winning the game.