Zvezda defended home court in Game 1
Friday, 12. April 2019 at 19:00
In the first game of the ABA League Finals, Crvena zvezda mts are currently hosting Budućnost VOLI in Aleksandar Nikolić Hall, Belgrade. Follow live play by play on our website.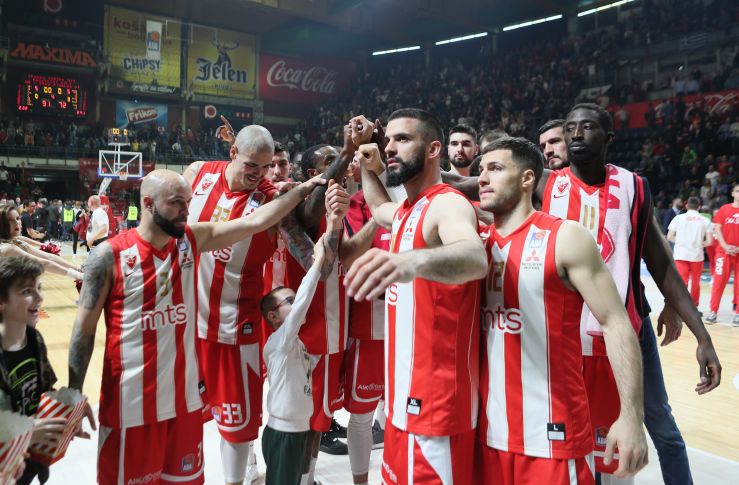 Crvena zvezda mts team (Photo: Crvena zvezda mts)
ABA League Finals, Round 1, Friday, 12.4.2019:
CRVENA ZVEZDA MTS - Budućnost VOLI 91:72 (18:20, 27:22, 20:10, 26:20)
Game recap: Crvena zvezda mts have made the first step towards achieving their desired goal – returning the ABA League trophy to their trophy cupboard. They have beaten Budućnost VOLI in Game 1 of the ABA League Finals and have taken a 1:0 lead in the series. In a game, that seemed to be able to go anybody's way in the first half, the hosts have dominated the court in the second part of the clash and have deservedly taken the lead in the Finals.

Key moments: As mentioned before, third quarter was the crucial for Crvena zvezda mts on their way towards the victory in the end. They have won the third period of the game 20:10 and converted their 3-point lead at the halftime (45:42) to a 13-point lead after 30 minutes (65:52). This was enough for their victory, as Budućnost VOLI did not manage to bounce back in the final quarter.

Man of the match: Billy Baron has demonstrated a fantastic performance, with which he led Crvena zvezda mts to the huge win over Budućnost VOLI. He ended the clash with game-high 19 points (4/4 for 3 points), while adding 5 assists, 4 rebounds, 2 steals and a valuation of 27 to his stats. He is our man of the match!

Can't trick the stats: Crvena zvezda mts were shooting three-pointers 55% (12/22) and Budućnost VOLI were shooting them only 29% (7/24). This was the major difference between the two sides.